Review for Domestic Secrets
by Rosalind Noonan
Rachel Whalen and Ariel Alexander have been friends for more than a decade. Despite their differences--down-to-earth Rachel owns a local hair salon; Ariel is a vivacious former TV star determined to hold on to her looks--they've helped each other navigate single motherhood, banding together against the soccer moms of Timbergrove, Oregon.
Yet lately, Rachel wonders about Ariel's increasingly erratic parenting and her clandestine love life. And Rachel can't reveal to anyone, even Ariel, how much she worries about her sullen, distant, younger son. When an unthinkable tragedy separates the two families, Rachel desperately tries to understand what went wrong. But as her assumptions are ripped away one by one, she must confront shattering revelations about the people she trusted and the suburban world that once seemed so safe.
Rosalind Noonan explores both the bonds and the gulfs that exist between parents and children, friends and neighbors, in a suspenseful novel that is honest, intelligent, and thought provoking.
MY REVIEW: Whew! The suspense is real in this novel! Rachel and Ariel are good friends who have weathered many storms together but the storm that is coming will likely rip their friendship to shreds as Ariel has done the unthinkable. She teaches voice to the young teenagers in the local Glee Club which Ariel's daughter, Remy, is a member of and Rachel's son, Jared, is also. Jared and Remy will become a part of the drama and devastation that Ariel created. She becomes far too friendly with some of the teenagers but thinks she has kept it a secret. But someone knows. Who knows what Ariel has been doing and how will it affect the two families? Will Jared receive the help he needs to survive?
This novel is filled with suspense and many surprises and twists. Rachel, Remy, Jared, and Carrie are the characters you can't help but love. Ariel is one to pity and wonder at her erratic behaviors. I felt that Jared, Carrie, and Ariel were wounded souls and needed help. But it is likely help they will never accept. This novel does contain the suggestions of sexual activity and this would not be appropriate for younger readers. This novel held my interest until the very last. I had to put the book away to go to Bible study at church and could not wait til I crawled and bed and could finish the last few chapters. It was that good and shocking!
I rated this novel 5 stars and highly recommend it to adult readers.
I received a copy of this book from netgalley in exchange for my honest review.
About the Author: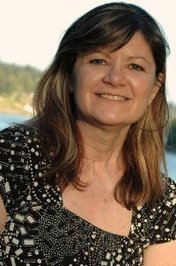 ROSALIND NOONAN grew up in suburban Maryland and enjoyed being part of a large family. "With my four siblings, Saturday mornings were a blast," she says. "There was festival seating on the living room floor as we devoured cartoons and passed the Sugar Pops."
She caught the writing bug in second grade when she won first place in a poetry contest. "The prize was twenty dollars," she recalls. "That was big bucks for a second grader. I thought I was going to Disneyland." Wooed by the taste of fame and fortune, she kept writing.
After attending Wagner College in Staten Island, she remained in New York City where she worked as an editor for various book publishers. Noonan currently lives in the Pacific Northwest with her husband, a retired cop from the NYPD, and two children. Although she sometimes misses the rapid pulse of New York, she enjoys writing in the shade of towering two-hundred year old Douglas fir trees.