Review of The Lassoed by Marriage Romance Collection
by Mary Connealy, Angela Bell, Angela Breidenbach, Lisa Carter, Rebecca Jepson, Amy Lillard, Gina Welborn, Kathleen Y'Barbo, Rose Ross Zediker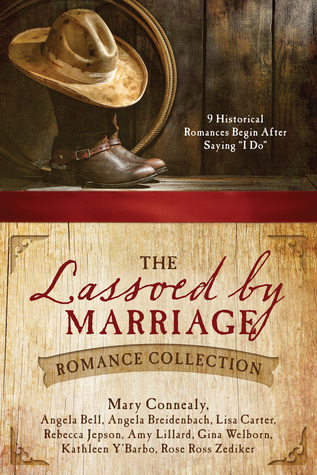 Come along on a romantic journey jam-packed with all the angst of marriages founded upon practical choices as well as coercion. Meet nine couples who barely know each other before they find themselves suddenly married—to please family, to stem the tide of gossip, to save the land—and joined for life. But can love grow when duty comes before romance?
The Substitute Bride by Angela Bell: London, England, June, 1865, Gwen's mother convinces her to be the substitute bride for her sister, Cynthia, in her marriage to Lord Elliott Carlyle. Elliott is not happy about the arrangement that he was tricked into, but their love for books and art may just save the day and make their marriage work.
My REVIEW of The Substitute Bride: This is a very well written and touching novella. I felt great empathy for Gwen and Elliott who were both placed in an awkward situation which is now permanent. I was just disappointed that the story ended and I wanted to know more about Gwen and Elliott's relationship. I rate this novella 5 stars and highly recommend it to readers.
Bridal Whispers by Angela Breidenbach: Saint Paul, MN, March 5, 1900, Maila and Burton work to help their family rebuild itself when Burton's wife and many other family members due of influenza. Maila has been away studying to be a nurse and finally practising as one. But now it is her duty to help her family. Burton needs her help too. But the townswomen spread rumors that Burton and Maila are behaving shamefully. Maila's mother insists they marry when she hears this. Will Burton ever be able to forget his beautiful first wife, Rose? Will Maila be stuck forever in a loveless marriage?
MY REVIEW of Bridal Whispers: This is such a fun novella to read. It must have been very sad and frightening for so many people to die of influenza. I felt so sorry for Maila as it seemed she had to give up her nursing position and the man she loved as well. I rated this novella 5 stars and highly recommend it to readers.
Mule Dazed by Lisa Carter: Montana Territory, 1885, Hattie runs away from her home when her brothers promise her in marriage to a man she doesn't love, and meets up with the sheriff of Hitching Post, Montana. He promptly arrests her for releasing the mules ready to race in the town's annual Mule Days' race. Sheriff Braxton Cashel recognizes her as the girl from his childhood, known as "Crazy Hair". Her brothers ride into town and force them to marry when they say he has compromised her virtue by sleeping in the cell with her all night. Their marriage gets off to a rough start, but Braxton begins to enjoy her cooking, her lovely curls, and her constant chatter. Will their marriage last? or will he have it annuled when the judge returns to town as promised?

MY REVIEW of Mule Dazed: What a cute novella ! I love the annual tradition of Mule Days when the men and women have all sorts of activities planned to hook up as couples and a minister is there to marry all the lucky couples at the end of the festivities. This novella had me laughing and hoping for things to work out for Braxton and Hattie.
I rated this novella 5 stars and highly recommend it to readers.
The Sweetwater Bride by Mary Connealy: Montana, July, 1897, Tanner Harden rides out on his land to find a creek to water his cattle and animals, and finds a hidden cover behind a huge rock formation. In that cove, he finds an even bigger surprise....a woman who has lived alone for 4 or 5 years (she is not sure of the exact time) and has not even traveled out to a town in all this time! He kidnaps her and takes her to his home to meet his mother, and in the process, he falls in love with Debba. Will Debba marry him or will she insist on going back to live in her own cabin alone?
MY REVIEW: This is a delightful novella. Debba and Tanner are precious characters. He truly cares about her and fears for her loneliness in living alone. I loved this novella and rated it 5 stars and highly recommend it to readers.
A Highbrow Hoodwink by Rebecca Jepson: Aspen, Colorado, February 1883, Katie has an illegimate son, Georgie, who is ten months old and Henry comes to find her and tell her the father of her baby is dead and he wants to take her son as Georgie is now the heir to a huge family fortune. She refuses to let her son go and Henry then asks her to marry him. She agrees, but life is not good between Henry and Katie. He resents her and her son. Will he ever look at her and her son with love in his eyes?
MY REVIEW: This was a surprising novella to read as many events popped up that I wasn't expecting. This made the book very excited. It is a light, quick read and well worth the time. I rated this novella 5 stars and highly recommend it.
Not So Pretty Penny by Amy Lillard:Kansas, 1867, Penny's brother and father have not returned from fighting in the Civil War and she needs a man to help her plant the crops and keep the farm going for when her loved ones return. So she does the only thing she can think of in desperation, she goes to the jail to buy a prisoner to be her husband. She marries Wash in this way and he agrees, but plans to leave after the crops are in to exact revenge on the man who murdered his sister and framed him for the murder. What will happen with Penny and Wash living on the farm and not loving each other?

MY REVIEW: This novella made me imagine the agony that many experienced from the Civil War. Women had little choice in many cases but to marry men out of necissity. I found the characters believable and likable. I was drawn into the story and hopeful for the future for Wash and Penny. I rated this novella 5 stars and highly recommend it to readers.
All's Fair by Gina Welborn: Wathens, Kansas, July 4, 1900, Coral Davies and Hiram Kent were secretly seeing each other but the Davies and Kent families had a long feud running and the Kent and Davies' boys saw them together one day. They fought Hiram and Jack Kent threw Coral into the icy waters of the river and caused her to be deaf in one ear. They fight again years later and all end up thrown in jail. The judge orders a Kent and Davies to marry or he will charge them all. Jack Kent and Coral Davies volunteer to marry. How will their marriage ever work though? Will this end the families' feud?

MY REVIEW: This is a very touching novella focusing on forgiveness and stopping generational sins. Forgiveness is certainly not easy but Coral and Jack both work hard to make it happen, and this book inspires others to do the same. I rated this novella 5 stars and highly recommend it to readers.
The Colorado Coincidence by Kathleen Y'Barbo: May 1878, Callyville, Colorado, Gloree Lowe's husband and children have died after they moved from Texas to Colorado, and a man from the town and his two sons come to buy her farm and home from her....ordering her to accept their offer. Mack McCoy happens to ride up on the scene and helps Gloree and ends up marrying her and paying the debt on the farm to the bank. It is a marriage of convenience and both Gloree and Mack have secrets they are keeping. Will love come to them and will they share their secrets and resolve their differences?

MY REVIEW: Again, I felt so bad for women in this time period as they had no rights to ownership of land. The land went to a man as in the case here. The will stipulated it could belong to a man who would become her husband. It must have felt very lonely for women in many ways, especially being physically far from other families. I fell in love with this couple and just wanted the best for them, as if they were true friends of mine. I rated this novella 5 stars and definitely recommend it to readers.
Railroaded into Love by Rose Ross Zediker: Montana, 1895, Molly was picked up by the deputy where she was living in a saloon after her brother dropped her there and left. The deputy takes her to his brother, Noah, who is a new minister serving the Railroad and living and preaching from a railroad car. He wants Noah to let her stay with him but the minister in charge of Noah says it would be improper unless they were married, so they get married so that Molly can stay there. She plays the organ and sings for the services and helps Noah. But her outlaw brother, Cass, is trouble and means to harm them all. Will they find love in their marriage or have it annulled? Will Cass be found and straighten up?
MY REVIEW: This was very interesting as I had never heard of preachers working out of the railroad cars in this manner. I was married to a minister and it actually sounds very exciting. This novella addresses prejudice and tolerance for others in a lovely way. I rated this novella 5 stars and would be glad to recommend it to readers.
I received a copy of this book from netgalley in exchange for my honest review.
About the Authors:
Angela Bell--
Novelist Angela Bell is a 21st century lady with 19th century sensibilities. Her activities consist of reading voraciously, drinking copious amounts of tea, and writing letters with a fountain pen. She currently resides in the southern most region of Texas with pup Mr. Darcy and kitties Lizzie Bennett and Lord Sterling. One might describe Angela's fictional scribblings as Historical Romance or as Victorian History and Steampunk Whimsy in a Romantic Blend.
Whenever you need a respite from the 21st century hustle, please visit her cyber-space parlor at www.AuthorAngelaBell.com where she can be found waiting with a pot of English tea and some Victorian cordiality. From there, you can find links to connect with Angela on Facebook and Pinterest.
Rebecca Jepson--
Rebecca Jepson is a homebody who loves a good book, a cup of freshly ground coffee, and all things autumn. In addition to her debut novella, she has been published in Clubhouse Magazine and currently writes sports articles for The Dalles Chronicle. She has traveled extensively, to places that inspire her stories. Her favorite destinations included Russia, New England, and the Alaskan wilderness. She lives in sunny Reno, Nevada with her software engineer husband, Mike.
Visit Rebecca at her website,
http://www.rebeccajepson.com/
.
Angela Breidenbach is the captivating host of Grace Under Pressure Radio show on iTunes about becoming a woman of courage, confidence, and candor. She's a speaker/author/coach. Her newest book, Eleven Pipers Piping is the sequel to Snowflake Tiara: The Debutante Queen, a historical Christmas romance set at the beginning of Montana statehood. More books by Angela include A Healing Heart,#6 Quilts of Love Books from Abingdon Press, Gems of Wisdom: For a Treasure-filled Life, Creative Cooking for Simple Elegance, and the Kindle release, Creative Cooking for Colitis. Other works by Angela include compilation books and devotionals from David C. Cook (The Quiet Hour), Guidepost, Group, and articles in magazines, ezines, and newspapers. Angela also coaches and is certified in mentor/peer counseling as a Stephen Minister and CTA life coach. She's the Christian Authors Network president. Don't miss the hijinks of Muse, the famous fe-lion, as he sasses Writer on Angie's blog, A-Muse-ings, and on Facebook.
Interact with or learn more about Angela Breidenbach:
http://www.AngelaBreidenbach.com
https://itunes.apple.com/us/podcast/a...
http://www.twitter.com/AngBreidenbach
AMY LILLARD-- from goodreads' bio: I'm a wife, mother, and bona fide Southern belle. Published author, expert corn bread maker, and Squirrel Princess.
I live in Tulsa, though I was born in Mississippi. I moved to the Sooner State when I was seventeen and met my soul mate and best friend not long after. I've retained a little of my Mississippi accent though most people think I'm from Texas. (?) Rob and I have been married for over twenty years and have a son--a mom proclaimed prodigy, of course!
I love homemade tacos, nail polish, and romance novels--not necessarily in that order. I'm a big fan of country music, a staunch proponent of saving the Oxford comma, and I'm shamefully obsessed with all things Harry Potter.
I believe that God is love. I guess that's why I adore romances.
I have always been intrigued with the Amish culture, their gentle ways and slower-paced lifestyle. (And I love, love, love the fact that they stay married for their lifetime.) But until recently I never thought to blend this interest with my penchant for romance. Okay, okay, I'm a bit old-fashioned and even enjoy the gender roles that are present in this culture. I love to cook and take care of my family. Yes, that's me June Cleaver with a laptop.
I dislike people trying to convince me to read the Twlight series (I'll get to it or I won't, either way I'm good with it), gratuitous violence, and strawberry ice cream. (I know I'm alone on this last one, and again, I'm good with it.)
Favorite movies--(besides HP) French Kiss, Maid of Honor, A Lot Like Love, Just Married, and Sweet Home Alabama. Oh, and Miss Congeniality, Sabrina (both versions) and a 1940's movie called Dear Ruth. If you haven't seen it, you should! A-dorable. Anything with Doris Day and most all of Marilyn's and Audrey's.
Rose Ross Zediker--
Multi-published author and RITA finalist, Rose Ross Zediker, writes contemporary and historical inspirational romances and has over one hundred publishing credits in the Christian magazine genre for children and adults. Her titles have appeared on ECPA bestseller lists and been finalists for the RITA, National Reader's Choice, Booksellers Best and Book Buyers Best award contests. Rose is a member of the American Christian Fiction Writers and Romance Writers of America.
Gina Welborn worked in news radio writing copy until she had the epiphany that the news of the day was rather depressing, so she took up writing romances because they always end happily. Gina is a 2009 ACFW GENESIS historical romance finalist and a 2007 RWA GOLDEN HEART® inspirational finalist. As a member of RWA and ACFW, she is an active contest judge and coordinator. Her manuscripts have also finaled in the Daphne du Maurier, Duel on the Delta, Dixie, and Maggie contests. Oklahoma-girl Gina now lives in Richmond, Virginia with her youth-pastor husband and their five Okie-Hokie children. Gina is represented by Tamela Hancock Murray of The Steve Laube Agency. Her debut novella, "Sugarplum Hearts," part of the HIGHLAND CROSSINGS, is a February 2012 Barbour Publishing release. Her second novella, "All Ye Faithful," releases this fall as part of A CASCADES CHRISTMAS.
http://ginawelborn.blogspot.com/
Kathleen Y'Barbo--While wearing her publicist's hat, Kathleen has secured interviews with radio, television, and print media for clients at NavPress, Hatchette, Integrity, Barbour Publishing, and Broadman & Holman, to name a few. She also brings her own unique blend of Southern charm and witty prose to the more than 350,000 award-winning novels and novellas currently in print. Her novels have been nominated for American Christian Fiction Writers Book of the Year in 2002, 2003, 2004, and 2006; and 2007 will see the release of her 25th book.
Kathleen is a tenth-generation Texan and a mother of three grown sons and a teenage daughter. She is a graduate of Texas A&M University. Kathleen is a former treasurer for the American Christian Fiction Writers, and is a member of the Author's Guild, Inspirational Writers Alive, Words for the Journey Christian Writers Guild, and the Fellowship of Christian Authors. In addition, she is a sought-after speaker, and her kids think she's a pretty cool mom, too…most of the time, anyway.
Lisa Carter was always the child who made up epic tales involving prairie schooners or interplanetary voyages for the neighborhood kids to re-enact during summer vacation. Now, she and her husband have two daughters and make their home in North Carolina. When she isn't writing, Lisa enjoys traveling to romantic locales, quilting and researching her next exotic adventure. She is the author of romantic suspense novels, Carolina Reckoning and Beneath a Navajo Moon, Under a Turquoise Sky and Vines of Entanglement. Aloha Rose, part of the Quilts of Love series, and Coast Guard Courtship are contemporary romances. Her latest romantic suspense novel, Beyond the Cherokee Trail, releases September, 2015.