Review of Silver Spurs
(Horses & Friends #2)
by Miralee Ferrell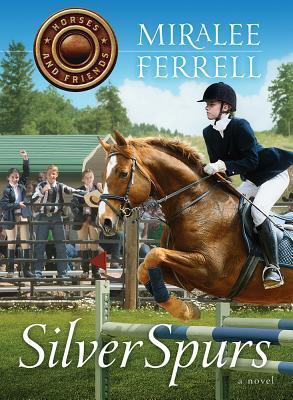 Kate's dream of owning a horse has finally happened. But now her best friend Tori has no money to buy a horse. So Kate comes up with a plan—she'll raise money by boarding horses and hosting a show in her family's barn.
It seems the perfect solution until Melissa, the girl who disses Kate and Tori at school, shows up to board her horse, determined to compete in their show and win the silver spurs. Will their plan be ruined—or does God have something better in store for them all?
Silver Spurs
is a tale of overcoming fears and trusting God with your dreams.
MY REVIEW: What a great book for young readers this one is! Kate is thrilled to have her own horse and now she plans to teach her best friend, Tori, to ride as well. She has a plan to fund this dream as well. She just needs to convince her parents to board horses at their barn. But is it worth having to put up with a snotty girl like Melissa, one who ignores them at school and makes them feel like they're worthless? Kate, Tori, and Colt will even clean the stalls and care for the horses to have their dreams come true. This is a delightful read and as a former middle school language arts teacher, I know that many young people love horses and would be motivated to read with this wonderful series.
This book also addresses some of the issues with other young people that tweens and teens experience. I appreciate the way that Kate is willing to be respectful of her parents and to listen with her heart. We can all take a lesson from her. Though this book is written for young readers, it is very enjoyable for adults as well, and would make a great read-aloud book for younger readers.
My own granddaughter loves horses and I'm planning to get this series of books for her. She does have her own horse at her other grandmother's home so she is already living her dream. We give her a subscription to Young Rider magazine and she wallpapers her room with the foldout posters that come in each issue. I am really excited to hear what she thinks of Kate's adventures with her horse.
I rate this book 5 stars and recommend it to young readers and adults.
I was given a free kindle version of this book from netgalley in exchange for my honest review. All opinions expressed are my own.
About the Author: