5-Star Review of "The Heart of the Amish"
Review of The Heart of the Amish: Life Lessons on Peacemaking and the Power of Forgiveness
by Suzanne Woods Fisher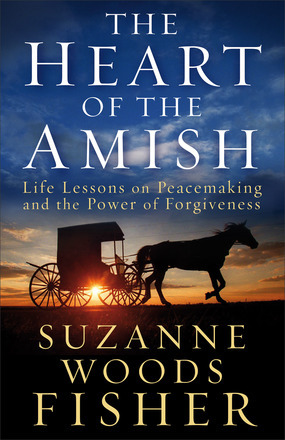 Everyone has been hurt. Everyone experiences conflict, great and small. Everyone has someone to forgive. But sometimes we just can't bring ourselves to forgive someone who has wronged us or we don't take the need to forgive seriously--not like the Amish do. Forgiving others in order to live at peace is woven into the very fabric of their faith. To the Amish way of thinking, "You can't love the stream without knowing the source. " We must forgive others, they believe, because God forgave us.
"The Heart of the Amish" invites readers into the world of a people renowned for their ability to forgive. Through true stories gathered from a variety of Amish communities, bestselling author Suzanne Woods Fisher illustrates how they are able to release their pain and desire for revenge, and live at peace with others. Her in-depth, personal research uncovers the astounding yet fundamental way the Amish can forgive anyone from the angry customer at the grocery store to the shooter at Nickel Mines. Readers will learn how to invite God into "their" stories, apply lessons from the Amish to their own circumstances, and find the freedom that comes with true forgiveness.
MY REVIEW: I was deeply moved by this book and I really did not expect that from a book based on forgiveness. I was filled with hope and peace after reading the stories of various Amish people who have been able to forgive little things to murder of their own children. The stories of the families involved in the Nickel Mines' shooting were particularly touching. Forgive someone who murdered your sweet innocent child while they attended their quiet Amish school? Forgive someone who texted while driving and hit your Amish buggy, killing several of your children and seriously injuring your wife? Forgive someone who emailed hateful accusations? How do we forgive others? How do we forgive ourselves? No one is able to forgive without God's intervention and Holy Spirit. We rely on God and lean on His strength.
I can certainly testify to having struggled with forgiveness in my own life. Most difficult of all for me has been forgiving myself for things I have done in my past. I have been able to achieve that milestone through counseling and prayer. This book includes scripture with each lesson on forgiveness. This is a quick read as I simply could not stop reading once I began. It could also be incorporated into a daily prayer and devotional time. It has reflections with each lesson which include questions and thoughts for the reader to ponder.
I rate this book 5 stars and believe that it teaches a meaningful series of lessons on forgiveness.
I received a free kindle version of this book from netgalley in exchange for my honest review. All opinions expressed are my own.
About the Author:
from goodreads.com's bio:
Suzanne Woods Fisher is the bestselling, award winning author of fiction and non-fiction books about the Old Order Amish for Revell Books, host of the radio-show-turned-blog Amish Wisdom, a columnist for Christian Post and Cooking & Such magazine.
Her interest in the Amish began with her grandfather, who was raised Plain. A theme in her books (her life!) is that you don't have to "go Amish" to incorporate the principles of simple living.
Suzanne lives in California with her family and raises puppies for Guide Dogs for the Blind. To her way of thinking, you just can't take life too seriously when a puppy is tearing through your house with someone's underwear in its mouth.
Suzanne can be found on-line at:
www.suzannewoodsfisher.com