Review of Quilted by Christmas
by Jodie Bailey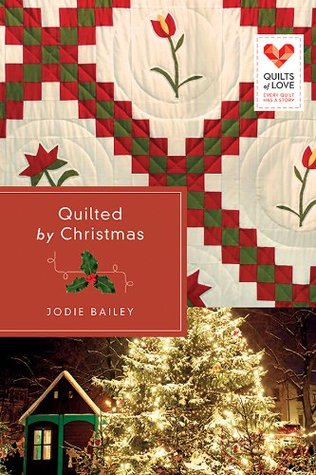 A grandmother's last wish is to communicate God's love through an Irish chain quilt.
Taryn McKenna believes she's easy to forget. Abandoned by her parents and left behind when her high school sweetheart joined the army, she vows to never love again and throws herself into her love for the outdoors and the pursuit of a college degree—something no one else in her family has ever accomplished. Her goal, as a young teacher in the hills of North Carolina, is to leave a legacy in the lives of the middle-schoolers she teaches.
When Taryn's grandmother Jemma, the only other person who ever held her close, has a heart attack that reveals a fatal medical condition, Taryn is corralled into helping Grandma work on a final project—an Irish chain quilt that tells the story of her history and the love Jemma knows is out there for Taryn. As the pieces of the quilt come together, Taryn begins to see her value. Can she learn to believe that God will never leave her behind even though others have?
MY REVIEW: I love Christmas stories and I also love quilts, and this story incorporates both of these elements to create the perfect novel. Jemma, Taryn's grandma, is a spunky and lively little lady who brightens the story up greatly. Taryn holds a secret which leads to a dilemma for her with Justin and Jemma. Can she overcome the hold of the past and finally tell her secret? or will it keep her from forgiveness and true happiness?
This is an easy-read and one that you can curl up in a big chair with a blanket and a fireplace and just enjoy every word. I don't have a fireplace so my heated blanket had to suffice but it worked for me. I rate this book 5 stars and highly recommend it to others.
I received a free pdf version of this book from netgalley in exchange for my honest review.
About the Author:
Jodie Bailey is Tarheel born and bred. After fifteen years as a military spouse, she's proud to be a retired military spouse settled back in North Carolina with her husband and daughter. She is the author of the military suspense novel Freefall and is a contributor to Edie Melson's devotional for military families, Fighting Fear: Winning the War at Home. She was a 2010 finalist in the Spacecoast Authors of Romance Launching a Star competition for her unpublished romance Going in Circles. While not working on her next novel (also a military suspense), she teaches middle schoolers to love writing as much as she does (if she's lucky that day and they're actually listening...). Jodie loves to bake, ride the Harley with her husband, and fish the Outer Banks with their daughter. You can find her on the web at www.jodiebailey.com.