Review of Huckleberry Christmas
by Jennifer Beckstrand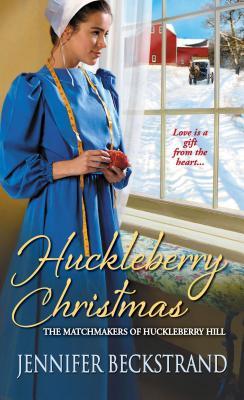 Now that they've happily married off two of their grandchildren, Anna and Felty Helmuth are ready for their next matchmaking challenge. What better way to celebrate the most heartwarming of seasons--and make Huckleberry Hill, Wisconsin, the place for unexpected love. . . A difficult marriage has left the Helmuths' widowed great-granddaughter, Beth, finished with wedlock. She's content to live with them and make a life for herself and her toddler son. But once she turns down handsome Tyler Yoder's proposal, it seems only fair to encourage him to find a suitable wife. Trouble is, his gentleness and generous ways are showing her how joyous a real meeting of hearts can be. . .
After a failed courtship, Tyler thought the best he could hope for in a wife was mere companionship. But spirited Beth is the one he longs to protect, and hold close. Earning her trust is the hardest thing he's ever had to do. And soon, both will discover that forgiveness and understanding are gifts that only rekindled faith--along with the happiest of holidays--can bring.
MY REVIEW: Caroling in the snow and a hayride with hot cocoa....what could be better? It sounds like the perfect Christmas celebration to me! Beth and Tyler are Mammi Anna's latest matchmaking pair as Mammi is sure that they belong together but there's a problem. Beth endured an emotionally abusive husband and she does not feel that she can trust another man not to treat her the same way or worse. Tyler is in love with her and proposes but she turns him down. Beth has found a way to provide for her and her little red-headed cutie with her sewing and feels that she does not need a man to come in and ruin it all.
I loved this Christmas book! I felt like I was right there with the characters as Tyler made bacon-pancakes for Beth and Toby. Little Toby adores Tyler and calls him "Mommy". Beth has a strong sense of family and loyalty and this is something that is very important to me as well. Beth is a very spirited, opinionated character and she is hard not to love. I rate this book 5 stars and highly recommend it to readers. I think I need to go and find some huckleberry jam and biscuits and coffee and pretend I'm back there! Care to join me?
I received a free pdf version of this book from netgalley in exchange for my honest review.
About the Author:
from goodreads.com author's bio:
I grew up with a steady diet of William Shakespeare and Jane Austen. After all that literary immersion, I naturally decided to get a degree in mathematics, which came in handy when one of my six children needed help with homework. After my fourth daughter was born, I started writing. By juggling diaper changes, soccer games, music lessons, laundry, and two more children, I finished my first manuscript—a Western—in just under fourteen years. I now write Inspirational Amish Romance. My goal is to write uplifting, inspiring stories with happy endings and hopeful messages. If my books make readers want to give themselves a big hug or jump up and down for joy, I've done my job. I am a member of Romance Writers of America and American Christian Fiction Writers and am represented by Mary Sue Seymour of The Seymour Agency.
There are three Amish romances in the Forever After in Apple Lake Series (Summerside/Guideposts). Kate's Song, Rebecca's Rose, and Miriam's Quilt are all now available. Kate's Song was the #1 Romantic Religious Fiction download in the Free Kindle Store in August of 2012, and Rebecca's Rose and Miriam's Quilt both spent time in the top 50 Religious Fiction books on Amazon.com.
I have six Amish Romances in the works with Kensington Books. The first book, Huckleberry Hill, will be released on January 7, 2014. Huckleberry Hill is set in Wisconsin on a little hill in Amish country.
The series, The Matchmakers of Huckleberry Hill, is about an elderly Amish couple who try to find suitable mates for their grandchildren. What could be more fun than throwing two young people together to see if sparks ignite? No one would ever suspect two octogenarian Amish folks of mischief.
Romantic Times gave Huckleberry Hill 4 1/2 stars, calling it "A sweet romance with a lot of heart that offers a new, refreshing take on the...matchmaking trope. The storyline is feasible, the characters are well written, with both their strengths and weaknesses on display. Readers will treasure this series and put the first outing on their keeper shelf."
I have four daughters, two sons, three sons-in-law, and two adorable grandsons. I live in the foothills of the Wasatch Front with my husband and one son still left at home.