Review of "The Lady and the Officer"
Review of The Lady and the Officer
by Mary Ellis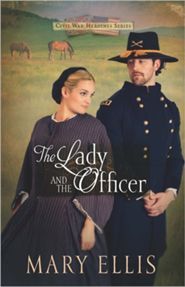 Bestselling author Mary Ellis (A Widow's Hope) presents The Lady and the Officer, Book 2 of her new Civil War historical romance series, which tells the stories of brave women and the men who love them.
Serving for a brief time as a nurse after the devastating battle of Gettysburg, Madeline Howard saves the life of Elliot Haywood, a colonel in the Confederate Home Guard. But even though Maddy makes her home in the South, her heart and political sympathies belong to General James Downing, a soldier from the North.
However, Colonel Haywood has never forgotten the beautiful nurse, and when he unexpectedly meets her again in Richmond, he is determined to win her. But while rubbing elbows with army officers and cavalry generals and war department officials in her aunt and uncle's palatial home, Maddy overhears plans for a Confederate attack in northern Virginia. She knows passing along this information may save the life of her beloved James, but at what cost? Can she really betray the trust of her family and friends?
Maddy's heart is pulled between wanting to be loyal to those who care for her and wanting to help the man she believes is on the right side of the conflict. Two men love her. Will her faith in God show her the way to a bright future, or will her choices bring a devastation of their own?
MY REVIEW: This was a very enjoyable book. I had no idea that women acted as spies to carry information to the officers in the Civil War. I would like to seek more information on this topic for my own personal research and learning. I loved the romance involved in the story. Some of the more tedious details of war and battles did not interest me though and I was not as enthused with those parts of the story. The way the wealthy family took to growing their own food to survive was highly engaging to me. I also really liked reading about the market. I recommend this book to other readers who enjoy historical romance and I rate it 4 Stars!
I received a copy of this book from netgalley in exchange for my honest review.
About the Author:
Mary Ellis grew up close to the Amish where she loved their peaceful agrarian lifestyle and strong sense of Christian community. She and her husband now live by the largest population of Old Order in the country where they take weekend trips to research her books. Mary enjoys reading, traveling, gardening, bicycling and swimming. Before "retiring" to write full-time, Mary taught Middle School and worked as a sales rep for Hershey Chocolate—a job with amazingly sweet fringe benefits. Her debut Amish fiction, A Widow's Hope, first in the Miller Family series, was a finalist in the 2010 ACFW Carol Awards and received the Award of Merit for the Holt Medallion. She has since written ten best-selling novels. Her previous release, Living in Harmony, first in the New Beginning series, won the 2012 Lime Award for Excellence in Amish Fiction.