Review of My Brother's Crown
by Mindy Starns Clark & Leslie Gould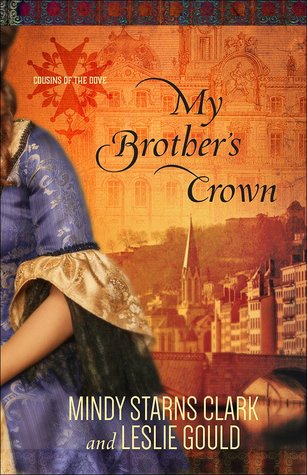 From Christy award-winning authors Mindy Starns Clark and Leslie Gould comes a brand-new sweeping family saga. Close-knit cousins are individually led on a redemptive journey as they follow the threads of their family's mysterious past and discover how it impacts the future.
Renee Talbot, a director in her family's 350-year-old paper company, is facing a huge problem: how to stay afloat in an increasingly paperless world. When her grandmother asks for her help in finding answers to some unsettling family-related questions, Renee's search for truth takes her to Europe, where she learns the story of Catherine Gillette, an ancestor who lived in seventeenth-century France. Headstrong and independent, young Catherine's brave actions saved the original paper company--and various members of the family--during a time when the French Huguenots were being persecuted by Louis XIV.
As Renee tries to save the company and her family's legacy, she draws courage and wisdom from an ancestor who stood strong and faithful when life was at its most perilous and God seemed to expect more from her than she ever thought she could deliver.
MY REVIEW: Wow, this book combines historical fiction and suspense and it is amazing! Mindy Starns Clark and Leslie Gould have created a very exciting look at the past and the present for a family who has endured religious persecution and tragedy. I did find myself longing to read more about Catherine Gillette and her adventure. Fans will be delighted with this book...the first in a new series, Cousins of the Dove. I am already anxious to read book 2.
I rated this book 5 stars!
I received a print copy of this book from the publisher in exchange for my honest review.
About the Authors:
A former singer and stand-up comedian, Mindy lives with her husband and two teenage daughters near Valley Forge, PA. She enjoys speaking to churches, civic groups, and libraries across the country. Her unique blend of humor and insight make her an audience favorite.
From the author's website.
Leslie Gould is the award-winning author of fifteen novels, including the #1 bestseller The Amish Midwife (CBA and ECPA), co-written with Mindy Starns Clark. The novel, the first in The Women of Lancaster County series, was a 2012 Christy Award winner. The Amish Nannyand The Amish Bride, the second and third novels in the series, also hit the bestseller list.
One of Leslie's stand-alone novels,Beyond the Blue, won of the Romantic Times Book Club Magazine's Reviewers' Choice Award for Best Inspirational Novel in 2006.
Leslie received her master of fine arts in creative writing from Portland State University in 2009 and has taught fiction as an adjunct professor at Multnomah University. She also teaches workshops at public and private schools and at writers' conferences.
A varied work history, from curating a historical museum to editing a bridal magazine, preceded her fiction-writing career. She is also an Army Reserve wife who has supported her husband, Peter, through many years of service, including a deployment to Afghanistan as the commander of a field hospital. Leslie and her husband live in Oregon with their four children.