5-Star Review of "An Amish Christmas Gift"
Review of An Amish Christmas Gift: Three Amish Novellas
by Amy Clipston, Ruth Reid, and Kelly Irvin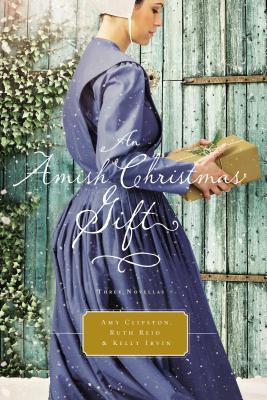 Naomi's Gift by Amy Clipston
Naomi has started to think that she isn
't meant to find love, but she might receive more than she ever hoped for this Christmas.
Twenty-four-year-old Naomi King, who has been burned twice by love, has all but given up on marriage and children. As Christmas approaches a time of family, faith, and hope for many others Naomi is more certain than ever her life will be spent as an old maid, helping with the family's quilting business and taking care of her eight siblings. Then she meets Caleb, a young widower with a 7-year-old daughter, and her world is once again turned upside-down.
An Unexpected Joy by Ruth Reid
Abigail has driven other suitors away, but can Micah find a way to show her he cares?
Abigail Kemp has managed to frighten off every bu who has ever driven her home from a singing. Sure she will live to be an old maid, Abigail starts saving her money to buy a horse so she can at least have some independence.
Micah Zook is looking for a caregiver for his grandmother, and Abigail needs a new job. He never expected that Abigail would talk so much . . . or that his grandmother would keep finding ways to set the two of them up.
Despite Abigail's constant chatter, she and Micah become friends until Micah makes a decision that leaves Abigail feeling betrayed. With Christmas in their midst, can Micah find a way to reconcile with Abigail and to reveal what's on his heart?
A Christmas Visitor by Kelly Irvin
Frannie Mast returns to Bee County for Christmas, but her heart stays back in Missouri with an Englisch farm boy.
Frannie knows her parents have the best of intentions when they send her back to Bee County, Texas, to live with her aunt Abigail and her husband Mordecai. After all, she knows nothing can come of a relationship with Rocky, the handsome but Englisch farmer boy back in Missouri. It's best to put those feelings aside, no matter how hard it is. But all bets are off when Rocky follows Frannie to Texas to plead his case. Could he be the Christmas gift to end all gifts?
MY REVIEW of Naomi's Gift by Amy Clipston: What a precious gift for Christmas for a young woman who has convinced herself that she will remain an old maid and a lonely young widower and his sweet daughter who wants a new love for her dadd for Christmas! This is a truly endearing novella that is sure to capture hearts of readers. It is very different from our English ways as we would not think of a young woman in her early twenties as an old maid. But the Amish live a very different existence and do believe in early marriages and families. 5 Stars for this novella by Amy Clipston!
MY REVIEW of An Unexpected Joy by Ruth Reid: Ruth Reid is known for her stories involving angels and in this novella, the angel is a real live Amish young woman! Abigail is nicknamed Gabby Abby by Micah and while it grates on his nerves, he also does not like it when Abigail becomes quiet.....too quiet....silent, in fact, for that means something is troubling her. I've been known to get in trouble for talking too much myself, so I can definitely relate to Abigail. As she sits with Micah's grandmother, her grandmother grows to love the young lady even while mentoring her in how to be a gentle lady who listens more than she talks. 5 Stars for this novella by Ruth Reid!
MY REVIEW of A Christmas Visitor by Kelly Irvin: Banished to Bee County, Texas to keep her away from the Englisch farm boy, Frannie is shocked when Rocky appears at her aunt and uncle's home in Texas! Apparently Rocky has plans for himself and Frannie and he may just find the love of God to fill the emptiness inside his heart as well as the love of a special young woman. This is another sweet novella in the collection and just in time for Christmas cheer for readers. 5 Stars for this novella by Kelly Irvin!
I received a free ebook of this novella collection from netgalley in exchange for my honest review.
About the Authors:
Amy Clipston is an author of Amish and Christian fiction with Zondervan Publishing. Most of her books focus on the Amish community, faith, and love. She also writes romance novels and young adult inspirational stories.
Please check out her bestselling Kauffman Amish Bakery book Series, including the following books:
A Gift of Grace, April 2009
A Promise of Hope, April 2010
A Plain & Simple Christmas, September 2010
A Place of Peace, December 2010
Naomi's Gift, September 2011
A Life of Joy, February 2012
A Season of Love, June 2012
Kauffman Amish Christmas, October 2012
A Hopeful Heart, Hearts of the Lancaster Grand Hotel Series #1, June 2013
A Mother's Secret, Hearts of the Lancaster Grand Hotel Series #2, June 2014
A Dream of Home, Hearts of the Lancaster Grand Hotel #3, December 2014
A Simple Prayer, Hearts of the Lancaster Grand Hotel Book #4, June 2015.
Her young adult books include:
Roadside Assistance, April 2011
Destination Unknown, sequel to Roadside Assistance, February 2014
Miles to Nowhere, April 2015
A Reckless Heart, May 2012
A Gift of Love (A Memoir), March 2014
I enjoy spending time with my family, including my hubby, my two wonderful sons, my mom, and my four spoiled-rotten cats. I love reading.
I'm an advocate for organ and blood donation. I donated a kidney on June 14, 2011, at Johns Hopkins Hospital. Through my donation, my husband received a second kidney transplant. My husband and I matched another couple and we swapped kidneys with them. I gave a kidney to my husband's donor's wife. Feel free to email me and ask me what it was like to be a kidney donor. It was one of the most amazing experiences in my life. If you're healthy, please donate blood! Also, become an organ donor.
Visit me at
www.facebook.com/AmyClipstonBooks,...
twitter
at @AmyClipston or
www.AmyClipston.com
Kelly Irvin's latest book in the New Hope Amish series, A Plain Love Song, releases in July 2014. She is the author of the Bliss Creek Amish series and the New Amish Amish series. The first series includes To Love and To Cherish, A Heart Made New, and Love's Journey Home, published by Harvest House. Love Still Stands, the first book in her spin-off series New Hope Amish, released in September 2013, followed by Love Redeemed in March 2014.
Kelly is now working on a three-book series for Zondervan set in Bee County, Texas. The first book in The Amish of Bee County series, The Beekeeper's Son, is set to release in January 2015.
Kelly has also penned two romantic suspense novels, A Deadly Wilderness and No Child of Mine, published by Five Star Gale in 2010 and 2011.
The Kansas native is a member of American Christian Fiction Writers and Sisters in Crime. She also serves as secretary of the ACFW San Antonio local chapter Alamo City Christian Fiction Writers.
A graduate of the University of Kansas William Allen White School of Journalism, Kelly has been writing nonfiction professionally for thirty years. She studied for three semesters at the University of Costa Rica, learning the Spanish language. As a journalist, she worked six years in the border towns of Laredo and El Paso.
She has worked in public relations for the San Antonio Parks and Recreation Department for 19 years.Kelly has been married to photographer Tim Irvin for twenty-six years, and they have two young adult children. They recently became grandparents for the first time. In her spare time, she likes to write short stories, read books by her favorite authors, and play with her new granddaughter.
Ruth Reid is a CBA and ECPA best-selling author of the Heaven on Earth series. She's a full-time pharmacist who lives in Florida with her husband and three children. When attending Ferris State University School of Pharmacy in Big Rapids, Michigan, she lived on the outskirts of an Amish community and had several occasions to visit the Amish farms. Her interest grew into love as she saw the beauty in living a simple life.