Review of "Among the Fair Magnolias"
Review of Among the Fair Magnolias: Four Southern Love Stories
by Tamera Alexander, Shelley Shepard Gray, Dorothy Love & Elizabeth Musser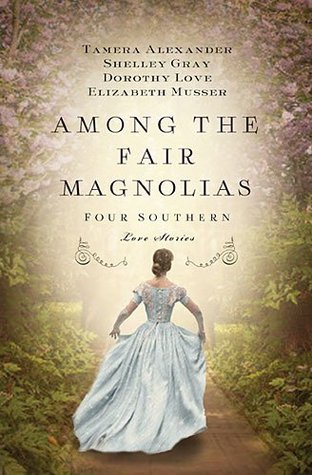 Four Southern women are at a turning point in history . . . and in their own hearts.
To Mend a Dream by Tamera Alexander
The Civil War cost Savannah Darby everything—her family and her home. When Aidan Bedford, an attorney from Boston, buys the Darby estate, he hires Savannah to redecorate. Can she find a mysterious treasure before her job is finished?
MY REVIEW of To Mend a Dream: As if the Civil War weren't trial enough to endure, Savannah and her younger brother and sister have lost their father and brother in the bitter war, now their home has been sold and she has to help Aidan Bedford's spoiled rich fiance redecorate it. Can she remain professional and complete the job? She needs the extra income from this job to care for her siblings. Aidan notices her beauty as well as her fine character as soon as they meet....will sparks fly or will God actually mend the dream of her heart?
I rate this sweet novella 5 stars. I enjoyed the length, the characters and the storyline. I love this story set in the period following the Civil War.
An Outlaw's Heart by Shelley Gray
When Russell Stark returns to Fort Worth, he's determined to begin a new life. But when he arrives at his mother's homestead, he discovers that she is very ill and the woman he loved is still as beautiful and sweet as he remembered. With time running out, Russell must come to terms with both his future and his past.
MY REVIEW of An Outlaw's Heart: I really felt the turmoil that Russell was feeling as he returned to Fort Worth after seven years of exile. Seven years of hell where he was a member of an outlaw gang. How would he ever reconcile things with his mother and Nora? When he discovers that Nora has never married, he feels the love being rekindled. Readers will love reading to see what happens with Nora and Russell in this 5-star romantic novella.
A Heart So True by Dorothy Love
Abigail knows all too well what is expected of her: to marry her distant cousin Charles and take her place in society. But her heart belongs to another. A terrible incident forces Abby to choose between love and duty.
MY REVIEW of A Heart So True: Abigail has been in love for some time with the young doctor in town but her father has arranged for her to marry for money to ensure her secure position in society. Her heart is torn into pieces but readers will enjoy reading as she makes decisions that are very difficult and heart-wrenching. I love the setting and reading of the wonderful parties, dances, and social events of life long ago in the South.
I rate this novella 5 stars and again, this is a quick read. This book will carry readers away to another time and place. I could do without the corsets personally as I'm sure the women of that time period could also, but the dresses seem so magnificient that I could imagine I was attending the dances with Abigail.
Love Beyond Limits by Elizabeth Musser
Emily has a secret: She's in love with one of the freedmen on her family's plantation. Meanwhile, another man declares his love for her. Emily realizes some things are not as they seem and secrets must be kept in order to keep those she loves safe.
MY REVIEW of Love Beyond Limits: Emily, the rich daughter of the plantation owner, finds herself in love with one of her father's freedmen. It is an impossible love and she has her dear old friend who still adores her and longs to marry her. The KKK becomes involved in the area as they try to intimidate the freedmen and plantation owner's NOT to vote in the upcoming election. This one felt a little farfetched to me as I wonder how often that really happened in post-Civil War times. But I did appreciate the surprising ending in this 5-star novella.
I received a kindle version of this book from netgalley in exchange for my honest review.
About the Author:
Shelley Gray
also publishes under the name
Shelley Shepard Gray
(Amish fiction, Christian fiction).
I live in southern Ohio with my husband, two teenagers, and two dogs. My days are filled with busy activities like most any other mom and housewife. But I also love to write books.
Each morning, after my kids go off to school, I sit at my desk, look out my window, and dream of other places. The hours fly by as I make up people and places and drink way too much coffee.
Writing for Avon Inspire has truly been a dream come true. Being able to spend my days in my make-believe world of the Brenneman Bed and Breakfast is a true blessing. I have enjoyed getting to know more about the Amish culture and tapping into my faith as I show each character's progression toward a personal relationship with our Lord.
Before becoming a full time writer, I taught elementary school in Texas, Arizona, and Colorado. A job transfer to Ohio led my husband to encourage me to finally give writing a try. After all, I had notebooks full of made up stories.
I'll never forget that first book I typed in our unfinished basement. It was exciting to make up a story, but also very scary. I was also so embarrassed, sure someone would come out of the woodwork and point out that I wasn't a 'real' writer. But I persevered, and sold my third manuscript.
Things have changed a bit. Now I have a real office of my own. (think old guest bedroom!) My walls are painted pink, and more than a couple of book covers decorate my walls. But my days are still the same. I wake up, dream about other people, and do my best to type out stories.
Tamera Alexander
Dorothy Love
Before returning to her writing roots in historical fiction, Dorothy Love published twelve novels for young adults. Her work has garnered numerous honors from the American Library Association, the Friends of American Writers, the International Reading Association, the New York Public Library, and many others.
Elizabeth Musser
ELIZABETH MUSSER, an Atlanta native, writes 'entertainment with a soul' from her writing chalet—tool shed—outside Lyon, France. Elizabeth's highly acclaimed, best-selling novel, The Swan House, was named one of Amazon's Top Christian Books of the Year and one of Georgia's Top Ten Novels of the Past 100 Years (Georgia Backroads, 2009). All of Elizabeth's novels have been translated into multiple languages. Two Destinies, the final novel in The Secrets of the Cross trilogy, was a finalist for the 2013 Christy Award.
For over twenty-five years, Elizabeth and her husband, Paul, have been involved in missions work with International Teams. The Mussers have two sons, a daughter-in-law and three grandchildren. Find more about Elizabeth's novels at
www.elizabethmusser.com
and on Facebook.