Review of Two Roads Home
by Deborah Raney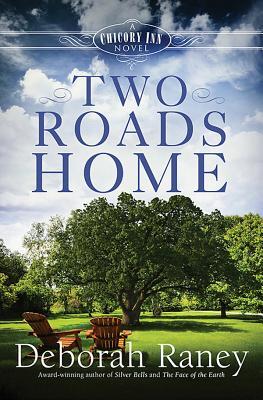 Minor-but-nagging setbacks continue to sour Grant and Audrey Whitman's initiation into the world of innkeeping, but larger challenges brew when an innocent flirtation leads to big trouble for the Whitmans' son-in-law, Jesse. Jesse Pennington's friendly, outgoing personality has always served him well, especially in a career that has earned him and his wife Corinne a very comfortable lifestyle. But Corinne and Jesse are both restless and for similar reasons, if only they could share those with each other. Instead, too many business trips and trumped-up charges of harassment from a disgruntled coworker threaten their marriage and possibly put their three precious daughters at risk. With their life in disarray, God is tugging at their hearts to pursue other dreams. Can Corinne and Jesse pick up the pieces of what was once a wonderful life before it all crumbles beneath them?
MY REVIEW: Do I have an issue with this book? YES, I ran the battery in my kindle completely out as I simply could not put this book away! Corinne and Jesse's problem with Michaela, a female coworker of Jesse's, drew me in immediately. I love a good bit of psychological suspense and when Michaela started acting like the sick woman in Fatal Attraction, my antennae sprouted and I was hooked!
I love it when an author manages to hook me from the very first paragraph and Deborah Raney definitely did exactly that with me. The characters are simply so real and believable that I could easily imagine being friends with any and all of them with the possible exception of Michaela. Who doesn't love when there is a rotten female antagonist ? She was a great "bad guy" in this story. I wanted her to leave Corinne and Jesse and their precious girls alone! As I finished the book, I was already hoping for a sequel to read and I was teased a bit with an excerpt of the next book in the series. I did not know this was a series and did not read the first book in series, but that certainly did not stop my interest. I do want to go back and read the first book though.
I rated this book 5 stars and just love the spine-chilling tingles it gave me!
I received a free ebook of this novel from netgalley in exchange for my honest review.
About the Author:
DEBORAH RANEY's first novel, A Vow to Cherish, inspired the World Wide Pictures film of the same title. Her books have since won the RITA Award, ACFW Carol Award, HOLT Medallion, National Readers' Choice Award, Silver Angel, and have twice been Christy Award finalists. THE FACE OF THE EARTH released in May 2013 from Howard/Simon & Schuster, and SILVER BELLS released from Guideposts in October. Deb and her husband, Ken Raney, enjoy small-town life in Kansas. They are new empty nesters with four children and a growing quiver of grandchildren, all of whom live much too far away.