Review of From the Start
by Melissa Tagg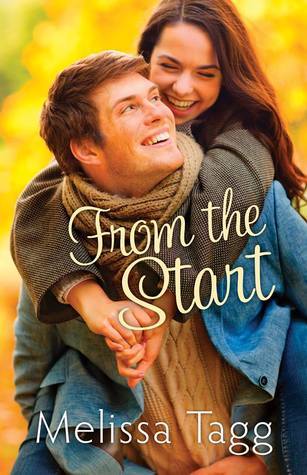 Kate Walker used to believe in true love and happily ever after. While her own love life may have left her brokenhearted, it hasn't kept her from churning out made-for-TV romance movie screenplays...until a major career slump and a longing to do something meaningful send her running back to her hometown of Maple Valley.
Permanently sidelined by an injury, former NFL quarterback Colton Greene is temporarily hiding out in a friend's hometown to avoid the media and the reminders of all he's lost. Maple Valley seems like the perfect place to learn how to adjust to normal life. The only trouble is he's never really done normal before.
While Kate plays things safe and Colton is all about big risks and grand gestures, they both get what it's like to desperately need direction in life. An unexpected project gives them both a chance to jumpstart their new lives, but old wounds and new dreams are hard to ignore. Starting over wasn't part of the plan, but could it be the best thing that's ever happened to them?
MY REVIEW: Are you looking for a clean, sweet romance to read? Check out Melissa Tagg's From the Start. It is full of good clean fun! I would not hesitate to recommend this romance to teenagers as well as adults.
I don't like football, I don't understand football, but this book actually got me excited about football for once. The Walker family and friends stole my heart and captured my attention in Melissa's Three Little Words and I was thrilled to get to spend even more time with them in this book. We all need dreams in our lives and it was really enthralling to watch as Colton and Kate work to discover their dreams and then figure out how to bring them to reality. Readers will love following along as Colton and Kate follow their dreams and maybe, just maybe even find love and romance in the bargain.
I rate this book 5 stars and highly recommend it to readers.
I received a free pdf version of this book from netgalley in exchange for my honest review. All opinions expressed are my own.
About the Author:
Melissa Tagg, author of Made to Last and Here to Stay, is a former reporter and total Iowa girl. In addition to her homeless ministry day job, she is also the marketing/events coordinator for My Book Therapy, a craft and coaching community for writers. When she's not writing, she can be found hanging out with the coolest family ever, watching old movies, and daydreaming about her next book. She's passionate about humor, grace, and happy endings. Melissa blogs regularly and loves connecting with readers at
www.melissatagg.com
.