5-Star Review of "An Empty Cup"
Review of An Empty Cup
by Sarah Price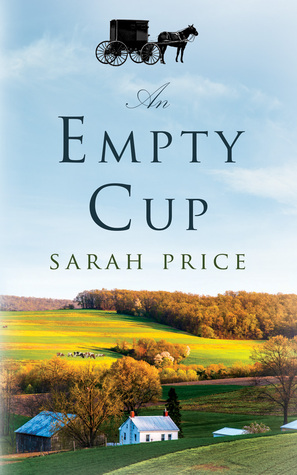 Amish woman Rosanna Zook lost her self-confidence within the confines of a loveless and abusive marriage. In the years spent quietly dealing with her burdens and dutifully caring for others, she forgot her sense of self and ability to feel. But after her first husband's untimely death, she gets a second chance with Reuben Troyer, a godly man who welcomes Rosanna and her two children into his life.
Despite the love and respect she finds in her new marriage, Rosanna soon learns that juggling the demands of her family and church community is more than she can handle. When Rosanna becomes ill, she is forced to confront a hard truth: one empty cup cannot fill another. For a woman who has spent her life giving, will Rosanna finally be able to let go and receive?
MY REVIEW: What an incredible book Sarah Price has written. Some may think this book is depressing, and there are parts that are sad and downright depressing. Sarah deals honestly and openly with mental illness in this book and frankly, mental illness is not always pretty. It is sad and it is difficult. It hurts. It causes pain to the ones who are suffering with it and those who love them.
The book also deals with those who are givers and can't say no to requests for help. Overdoing it and feeling used and abused can certainly lead to feelings of isolation and depression. I had this problem in my past and it does cause stress and burnout for sure. We must learn to take care of ourselves and not just do everything there is to do in the world for others. Healing comes with balance. Readers will struggle and cry right along with Rosanna as she seeks to find her own balance in life.
I rate this book 5 stars and highly recommend it to readers.
I received a free ebook copy of this book from netgalley in exchange for my honest review. All opinions expressed are my own.
About the Author:
Sarah Price self-published her first book, Fields of Corn, in 2009, a book she wrote thirty years earlier while studying anthropology and writing at Drew University (Madison, NJ). With her Anabaptist upbringing, she was drawn to the amazing culture of the Amish of Lancaster County where Ms. Price is heavily involved with numerous Amish communities where she is considered family by some and friend by most others. Fields of Corn became an Amazon bestseller and fans began asking her for more books.
In 2013, she signed with Realms, a division of Charisma House, to publish the Amish Classics series. Initially focusing on the retelling of Jane Austen's timeless classics from within an Amish setting, her first traditionally published book, First Impressions, A Retelling of Pride & Prejudice, debuted on the ECPA bestseller list. She intends to continue retelling classics, including the Bronte sisters and Victor Hugo, as she enjoys "raising the bar" on her own intellectual stimulation as well as that of her expansive base of loyal readers.
In 2014, she signed with Waterfall Press and published An Amish Buggy Ride which because the #1 bestseller in Religious Romance.
In 2015, she also began writing Young Adult fiction with her first book, Diehard Fangirl launching on April 17, 2015. Her focus is on helping young teenagers with self-esteem issues as well as educating parents about the good and the bad impact of social media on their daughters
Follow her on social media:
Blog:
http://www.sarahpriceauthor.com
.
Facebook:
http://facebook.com/fansofsarahprice
.
Twitter: @SarahPriceAuthr
Instagram: @SarahPriceAuthor
Goodreads:
https://www.goodreads.com/SarahPrice