Review of The Duck Commander Faith & Family Bible
New King James Version
by Phil & Al Robertson, executive editors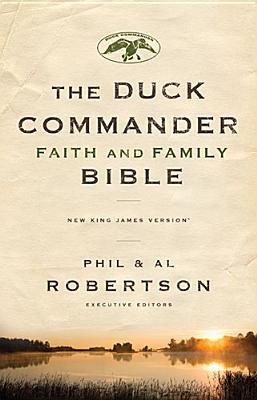 The stars of the hit TV show "Duck Dynasty" are committed to upholding five core values both on and off the screen: faith, family, fellowship, forgiveness, and freedom.
With new stories and testimonials told from the perspectives of Phil, the Robertson family patriarch, and his son Al, a pastor with more than 22 years of experience, "The Duck Commander Faith and Family Bible" offers fresh wisdom on these values, what the Bible says about them, and how everyday people can apply them to their lives.
With relentless dedication to sharing the gospel and expanding Christ's kingdom, the Robertson family has become a driving evangelical force of the twenty-first century. "The Duck Commander Faith and Family Bible" unleashes the power of their practical insight into critical faith issues, founded on God's holy Word.
Features include:
Full text of the New King James Version Bible A personal welcome note from Phil and Al Robertson 125 articles on the top 25 Bible search topics Life application and scripture references supplement each article 30 days of life-changing testimonials Topical index and reading plans
Part of the "Signature Series" line of Thomas Nelson Bibles
The New King James Version(R)--More than 60 million copies sold.
My Review: Happy, happy, happy is what I feel as I read The Duck Commander Faith and Family Bible. The New King James Version translates Bible verses into easily understandable scripture. For an example, "Have mercy upon me, O God, According to Your lovingkindness; According to the multitude of Your tender mercies, Blot out my transgressions." Psalm 51: 1 Phil and Al Robertson each write 52 devotionals on Faith, Family, Fellowship, Forgiveness, and Freedom. What impressed me as I read Phil and Al's personal thoughts was their honesty and the way they truly shared from the heart. They wrote in plain, everyday language that all readers could understand and relate to. There are also 30 Days of Lifechangers' stories.
I thought the print was fairly easy to read. I would have liked if the print were a bit larger for my own personal needs, but I could read it. The hardcover edition has a lovely cover and would make a sturdy Bible to carry along for Bible studies and church worship. There is a "Set Your Sights" Index breaking down the devotional topics even further for readers. There are devotions based on: Affluence, Anger, Anxiety, Apprehension, Assurance, Belief, Brokenness, Calling, Cares, Cheer, Children, Comfort, Commitment, Compassion, Concerns, Confidence, Consolation, Conversation, Conviction, Dedication, Distress, Endurance, Expectation, Fairness, Faith, Family, Favor, Fellowship, Fear, Fellowship, Forgiveness, Freedom, Gossip, Grace, Grief, Happiness, Healing, Heart, Heaven, Hell, Hope, Insight, Joy, Judgment, Justice, Kindness, Knowledge, Love, Marriage, Mind, Mission, Money, Parenting, Patience, Peace, Perseverance, Prayer, Purpose, Reassurance, Repentance, Resentment, Restoration, Righteousness, Serenity, Sin, Solace, Sorrow, Speech, Stewardship, Stillness, Stress, Suffering, Temptation, Tolerance, Tongue, Troubles, Trust, Understanding, Wealth, Wisdom, Worry, and Wrath. This book will make a wonderful gift for men or families. I plan to give my copy to someone special as a Christmas gift. I rate this Bible 5 stars.
I received a free copy of this Bible from booklookbloggers in exchange for my honest review.
About the Authors:
Phil Robertson was born and raised in Vivian, Louisiana. Phil was All-State in football, baseball, and track. He attended Louisiana Tech University on a football scholarship where he played first string quarterback ahead of Terry Bradshaw. After receiving his Bachelor's Degree in Physical Education and a Master's in Education, he spent several years teaching.
In 1972, the first Duck Commander call was created. The Duck Commander Company was incorporated in 1973 and his home became his "factory".
He speaks to hundreds of different churches and organizations every year about his strong Christian faith.
Phil has been married to "Miss Kay" (
Kay Robertson
) since 1966.
Alan Robertson grew up hunting, fishing, and helping build the family business in the 1970s and '80s. Alan left Duck Commander when he received the call for ministry in 1988 and served as a senior pastor in West Monroe, Lousiana, until 2012, when he rejoined the Duck Commander clan. Alan received an associate's degree from White's Ferry Road School of Biblical Studies and a bachelor in ministry from Sunset International Bible Institute. He lives in West Monroe, Louisiana, with his wife, Lisa, his two grown daughters, and two grandchildren. - See more at: http://authors.simonandschuster.ca/Al-Robertson/413144981