Review of "An April Bride"
Review of An April Bride
by Lenora Worth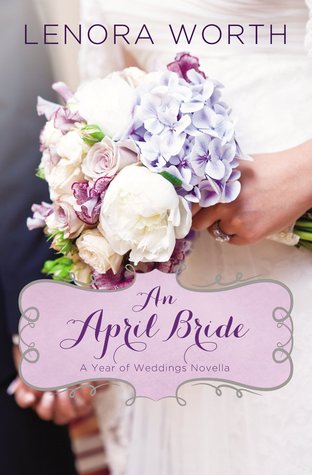 War changes everything . . . even their love.
Bride-to-be Stella Carson can't wait to marry her longtime sweetheart Marshall Henderson. But Marshall has been away serving his country and after suffering a head wound and being diagnosed with post-traumatic stress syndrome, he has distanced himself from Stella by asking her not to visit him in a Washington, D.C. hospital.
Marshall returns to Louisiana just four weeks before the wedding, but as the big day draws near, Stella wonders if the man she's loved for most of her life still wants to marry her.
MY REVIEW: This is a book full of hope. Marshall has PTSD after returning from deployment and he has lost his memory due to the head injury he received. He and Stella have loved each other since early childhood and are to marry in one month. Will he remember Stella? Will he still want to marry her? The future is highly uncertain for both of them. I suffer from PTSD personally so this book was very interesting to me. I certainly could feel the emotions of Stella and Marshall as I read. I have had short lapses of memory but not to the extent that Marshall has. I had to wonder what it was like for him. It must have been very confusing and disturbing. It would definitely cause most people to question their faith and ask God "Why me?" I have read several of the features in "A Year of Weddings Novellas" and this one is my favorite at this point! My husband was in the U. S. Air Force, my uncle was killed in WWII, several of my nephews are currently serving in the armed forces and have deployed numerous times and this book made the experience more real for me. I rate this book 5 stars and highly recommend it to readers.
I received a free pdf version of this book from netgalley in exchange for my honest review.
About the Author:
Lenora Worth has written over 45 books for three different publishers. Her first Love Inspired "The Wedding Quilt" won Affaire de Coeur's Best Inspirational for 1997, and "Logan's Child" won RT's Best Love Inspired for 1998. Her suspense "Code of Honor" finaled in the American Christian Fiction Writers' Carol Award and her "Body of Evidence" made the New York Times Bestseller list in Mass Market Paperbacks. With millions of books in print, Lenora continues to write for Love Inspired and Love Inspired Suspense and she recently sold three books to Harlequin's SuperRomance, still writing as Lenora Worth. Lenora also wrote a weekly opinion column for the Shreveport Times and worked freelance for SB magazine. She has now turned to full-time fiction writing and enjoying adventures with her retired husband, Don. Married for 36 years, they have two grown children—Kaleb and Carly. Lenora enjoys writing, reading and shopping … especially shoe shopping.