Review of "Safe Haven"
Review of Safe Haven
Peacemakers, Book 3
by Anna Schmidt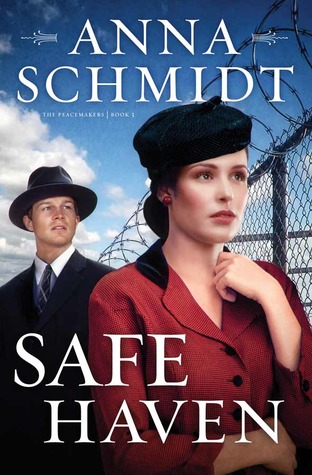 When journalist Suzanne Randolph hears about FDR's plan to bring a boatload of displaced WWII refugees to America, she knows it may be her last chance to redeem her flagging career. Suzanne follows the story to Oswego, New York, where she meets Theo Bridgewater, a Quaker dairy farmer from Wisconsin who has come to reunite with his uncle and aunt and cousin. Theo's fight to spare his relatives the return to Germany becomes Suzanne's fight as she does everything that the "power of the pen" can muster to help win public sympathy for the cause.
MY REVIEW: Anna Schmidt has written lovable, believable characters in the third book of the Peacemakers' series. Suzanne is a very determined young woman who has been injured so much that she has lost the ability to trust men. Then she meets Theo Bridgewater and things begin to change. The research that went into this historical romance was vast and well-done. I loved reading about the refugees who came from Germany to Fort Oswego during World War II. They signed an agreement with President Franklin Roosevelt that they would return to their homes when the war ended. What would be left of their homes? Would they all be forced to return even though many had relatives in America who wanted them to live with them?
I highly recommend this book and give it 5 Stars!
I received a free pdf version of this book from netgalley in exchange for my honest review.
About the Author:
Anna Schmidt is the award-winning author of over twenty works of historical and contemporary fiction. A reviewer from Romantic Times notes that "Schmidt is not timid about presenting her characters with their faults laid bare for the reader to see."
Currently Anna is working on a new series set in WWII Germany with an American Quaker protagonist. The first novel--ALL GOD'S CHILDREN-has already been praised by Publisher's Weekly! Her trilogy of contemporary novels about Mennonites living in the community of Pinecraft just outside Anna's winter home of Sarasota, Florida will be complkete with the publication of the third and final book A MOTHER'S PROMISE in Dec..
Anna is a three-time finalist for the coveted RITA award from Romance Writers of America and has finals and won the Reader's Choice award from Romantic Times magazine. Critics have called Anna "a wonderful storyteller"!