"Amish Cooking Class Cookbook: Over 200 Practical Recipes for Use in Any Kitchen" Book Review

Amish Cooking Class Cookbook: Over 200 Practical Recipes for Use in Any Kitchen Book Review
by Wanda E. Brunstetter
Amish Cooking Basic Enough for Beginners
Fans of
New York Times
bestselling author Wanda E. Brunstetter's Amish romance novels are invited to go back to cooking basics with characters from the bestselling Amish Cooking Class series. Heidi Troyer, her students, and other contributors share over 200 practical recipes for use in any kitchen, along with tips to keep things running smoothly. From learning how to boil eggs and knead biscuits to building a German Pizza and an Amish Haystack feast,
The Amish Cooking Class Cookbook
includes something beneficial for every age and skill set. Divided into traditional cookbook categories, there is a recipe everyone will find to love.
MY REVIEW: Oh my goodness, I think this may just be my new favorite cookbook! I fell in love with the characters in Wanda Brunstetter's Amish Cooking Class series so it is such a sweet treat to be able to recreate their favorite recipes. The cooking and household tips from the characters and those used in Amish homes are new and just plain awesome. I really love the tip to soak pasta previous to cooking. I've never heard that one! It is plumb delicious to get to sneak a peek inside the Amish kitchen to glean from their expertise in cooking. Bible verses are interspersed throughout the cookbook.
Many of the favorite Amish dishes are in the cookbook including Amish friendship bread including directions for making and storing the starter. I can't wait to get to cooking.
I am delighted to give this cookbook a 5 star rating.
I received an ebook of this cookbook from netgalley and Shiloh Run Press in exchange for my honest review.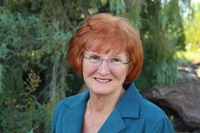 New York Times bestselling and award-winning author, Wanda E. Brunstetter is one of the founders of the Amish fiction genre. She has written close to 90 books translated in four languages. With over 10 million copies sold, Wanda's stories consistently earn spots on the nations most prestigious bestseller lists and have received numerous awards.
Wanda's ancestors were part of the Anabaptist faith, and her novels are based on personal research intended to accurately portray the Amish way of life. Her books are well-read and trusted by many Amish, who credit her for giving readers a deeper understanding of the people and their customs.
When Wanda visits her Amish friends, she finds herself drawn to their peaceful lifestyle, sincerity, and close family ties. Wanda enjoys photography, ventriloquism, gardening, bird-watching, beachcombing, and spending time with her family. She and her husband, Richard, have been blessed with two grown children, six grandchildren, and two great-grandchildren.
To learn more about Wanda, visit her website at
www.wandabrunstetter.com