Review of Brighton Belle
by Sara Sheridan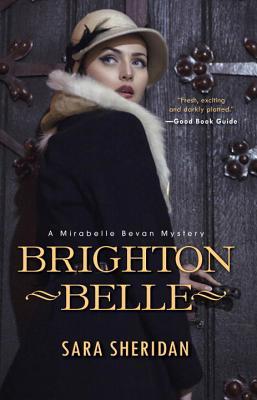 In post-World War II England, former Secret Service operative Mirabelle Bevan becomes embroiled in a new kind of intrigue…
1951: In the popular seaside town of Brighton, it's time for Mirabelle Bevan to move beyond her tumultuous wartime years and start anew. Accepting a job at a debt collection agency seems a step toward a more tranquil life.
But as she follows up on a routine loan to Romana Laszlo, a pregnant Hungarian refugee who's recently come off the train from London, Mirabelle's instincts for spotting deception are stirred when the woman is reported dead, along with her unborn child.
After encountering a social-climbing doctor with a sudden influx of wealth and Romana's sister, who seems far from bereaved and doesn't sound Hungarian, Mirabelle decides to dig deeper into the suspicious circumstances surrounding the death. Aided by her feisty sidekick--a fellow office worker named Vesta Churchill ("no relation to Winston," as she explains)--Mirabelle unravels a web of evil that stretches from the Brighton beachfront to the darkest corners of Europe. Putting her own life at risk, she must navigate a lethal labyrinth of lies and danger to expose the truth.
MY REVIEW: This is highly engaging book, full of action, deception, kidnapping, murder and more! Plan on getting sucked into the action as Mirabelle and Vesta play detective to solve the crime and look for the missing boss. In post-World War II time period, the Nazi war criminals are being found and executed. The police do not want their help. The events will leave you reeling. The events of the book lead them to a dangerous conclusion.
ALERT: This book does contain strong language and violence. I would not consider this book for teens and tweens.
I rated this book 5 stars and highly recommend it to lovers of suspense.
I received a copy of this book from netgalley in exchange for my honest review.
About the Author:
Born in Edinburgh. I'm a complete swot - love books always have! Currently obsessed with Georgian and Victorian explorers, about whom I write and with 1950s Britain for my Mirabelle Bevan murder mystery series set in London and Brighton.