Review of That Darkness
by Lisa Black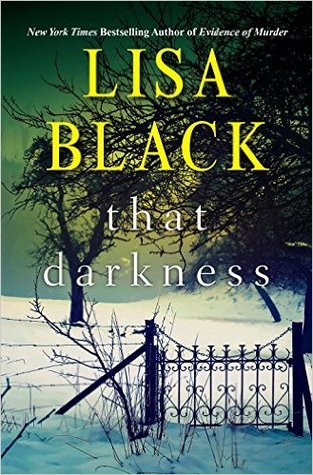 As a forensic investigator for the Cleveland Police Department, Maggie Gardiner has seen her share of Jane Does. The latest is an unidentified female in her early teens, discovered in a local cemetery. More shocking than the girl's injuries—for Maggie at least—is the fact that no one has reported her missing. She and the detectives assigned to the case (including her cop ex-husband) are determined to follow every lead, run down every scrap of evidence. But the monster they seek is watching each move, closer to them than they could ever imagine.

Jack Renner is a killer. He doesn't murder because he savors it, or because he believes himself omnipotent, or for any reason other than to make the world a safer place. When he follows the trail of this Jane Doe to a locked room in a small apartment where eighteen teenaged girls are anything but safe, he knows something must be done. But his pursuit of their captor takes an unexpected turn.

Maggie Gardiner finds another body waiting for her in the autopsy room—and a host of questions that will challenge everything she believes about justice, morality, and the true nature of evil …
MY REVIEW: This one started out with me confused. I wasn't sure where the story was headed and I didn't understand all of the technical language. About half-way through the book, it began to make sense. There is a great deal of violence as this is a murder-mystery so many readers will not want to try this if that is not their cup of tea. The killer is actually trying to right wrongs that justice did not correct. For the ones who got away....who did not serve time for the horrific crimes they committed, Jack Renner wants to make sure they don't hurt anyone else ever again. He thinks there is only one way for him to ensure that safety for other innocent victims.
Maggie Gardiner is a very thorough investigator, which is unfortunate for Jack Renner. She leaves no stone unturned....even though her job is to perform autopsies, she goes above and beyond the call of duty. Have you ever been reading and wished for the bad guys to be killed? because they are just that bad? That's how I felt as I read this book.
I rated this book 4 stars as I did find the first half confusing but enjoyed it and really wanted to know how the story would be resolved after figuring out what was going on.
I received a copy of this book from netgalley in exchange for my honest review.
About the Author:
Lisa Black spent the happiest five years of her life in a morgue. Strange, perhaps, but true. After ten years as a secretary, she went back to school to get a Bachelor's degree in Biology from Cleveland State University. In her job as a forensic scientist at the Cuyahoga County Coroner's Office, she analyzed gunshot residue on hands and clothing, hairs, fibers, paint, glass, DNA, blood and many other forms of trace evidence, as well as crime scenes.
She had her life sorted out just the way she liked it until her husband got fed up with Cleveland snow and moved them to Florida, 1400 miles away from her family and her career. Not that she's bitter or anything. Now she works as a latent print examiner for the city of Cape Coral, Florida, police department, working mostly with fingerprints and crime scenes.
Lisa has lectured at writer's conventions and appeared on panels. In her life as a writer she's a member of Sisters In Crime, Mystery Writers of America and International Thriller Writers. In her life as a forensic specialist she's a member of the American Academy of Forensic Scientists, the International Association for Identification, the International Association of Bloodstain Pattern Analysts and is certified by the American Board of Criminalistics. She has had over 741 hours of instruction in forensic topics and has testified in over 50 trials.