Review of Where Treetops Glisten
by Sarah Sundin, Cara Putnam, and Tricia Goyer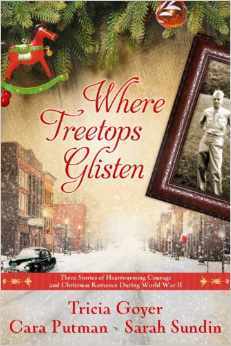 The crunch of newly fallen snow, the weight of wartime
Three siblings forging new paths and finding love in three stories, filled with the wonder of Christmas
Turn back the clock to a different time, listen to Bing Crosby sing of sleigh bells in the snow, as the realities of America's involvement in the Second World War change the lives of the Turner family in Lafayette, Indiana.
In
White Christmas
by Cara Putman
,
Abigail Turner is holding down the Home Front as a college student and a part-time employee at a one-of-a-kind candy shop. Loss of a beau to the war has Abigail skittish about romantic entanglements—until a hard-working young man with a serious problem needs her help.
Abigail's brother Pete is a fighter pilot hero returned from the European Theatre in Sarah Sundin's
I'll Be Home for Christmas
, trying to recapture the hope and peace his time at war has eroded. But when he encounters a precocious little girl in need of Pete's friendship, can he convince her widowed mother that he's no longer the bully she once knew?
In Tricia Goyer's
Have Yourself a Merry Little Christmas,
Meredith Turner, "Merry" to those who know her best, is using her skills as a combat nurse on the frontline in the Netherlands. Halfway around the world from home, Merry never expects to face her deepest betrayal head on, but that's precisely what God has in mind to redeem her broken heart.
The Turner family believes in God's providence during such a tumultuous time. Can they absorb the miracle of Christ's birth and God's plan for a future?
MY REVIEW of White Christmas: I love nothing better than a white Christmas myself and that's what Abigail Turner longs for as well. In war times, with rationing and the loss of a beloved boyfriend and a sister and brother serving in the war efforts, it seems that Abigail does need something special to brighten the holidays. This story was very lovely. I was touched by the kind heart of Abigail and the devotion of Jackson for his family. Problems fall on each of us and it seems that when they hit at Christmas time, the problems are compounded. Readers will enjoy watching Abigail and her family assist this devoted young man in solving his problem. I rate this story 5 stars and would highly recommend it to readers.
MY REVIEW of I'll Be Home for Christmas: I have an uncle who was killed in World War II, so Grace's plight and suffering after losing her husband who was a fighter pilot in WWII is very emotional for me. I can only imagine being left to raise a young rambunctious daughter alone. Pete has returned with emotional wounds from his time as fighter pilot and falls in love with little Linnie when he meets her. Can he win mom's heart too? Can she forget the brute and bully Pete used to be as a youngster? I truly appreciate the accurate details related to the war and the times. It makes the story authentic and believable. I felt like I was there with the characters. I rate this novella 5 stars and would love to recommend it to readers.
MY REVIEW of Have Yourself a Merry Little Christmas: I really like that this series of novellas includes the same family of siblings and we get to know the three siblings quite well by the end. I would love to read a sequel where we find out what happens later with Abigail, Pete and Merry. I will be honest in that I had not considered the possibility that a German soldier and American nurse might fall in love. This novella added a unique perspective to World War II for me. I also appreciated that we heard from Abigail and Pete while the focus of this novella was Merry. I can see why many young women joined the forces as nurses to have adventure and travel in the time period. They obviously found much more adventure than they ever bargained for. I rate this novella 5 stars and am delighted to recommend it to readers.
I received a copy of this book from bloggingforbooks in exchange for my honest review.
About the Authors: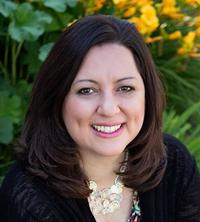 Tricia Goyer is a busy mom of six, grandmother of two, and wife to John. Somewhere around the hustle and bustle of family life, she manages to find the time to write fictional tales delighting and entertaining readers and non-fiction titles offering encouragement and hope. A bestselling author, Tricia has published thirty-three books to date and has written more than 500 articles. She is a two time Carol Award winner, as well as a Christy and ECPA Award Nominee. In 2010, she was selected as one of the Top 20 Moms to Follow on Twitter by SheKnows.com. Tricia is also on the blogging team at MomLifeToday.com, TheBetterMom.com and other homeschooling and Christian sites.In addition to her roles as mom, wife and author, Tricia volunteers around her community and mentors teen moms. She is the founder of Hope Pregnancy Ministries in Northwestern Montana, and she currently leads a Teen MOPS Group in Little Rock, AR. Tricia, along with a group of friends, recently launched
www.NotQuiteAmishLiving.com
, sharing ideas about simplifying life. She also hosts the weekly radio podcast, Living Inspired. Learn more about Tricia at
www.triciagoyer.com
.
Cara C. Putman lives in Indiana with her husband and four children. She's an attorney and a teacher at her church as well as lecturer at Purdue. She has loved reading and writing from a young age and now realizes it was all training for writing books. She loves bringing history and romance to life.
An honors graduate of the University of Nebraska and George Mason University School of Law, Cara left small town Nebraska and headed to Washington, D.C., to launch her career in public policy.
Cara is an author chasing hard after God as she lives a crazy life. She invites you to join her on that journey. Her 15th novels releases this fall along with a fresh edition of another book. Please check out her website to learn more about her books and read first chapters.
Sarah Sundin enjoys writing about the drama and romance of the World War II era. The Wings of the Nightingale series (
With Every Letter
, 2012,
On Distant Shores
, August 2013, and
In Perfect Time
, August 2014) follows three World War II flight nurses as they find love, friendship, and peril in the skies and on the shores of the Mediterranean. The Wings of Glory series from Revell (
A Distant Melody,
A Memory Between Us,
and
Blue Skies Tomorrow
) follows three brothers who are B-17 bomber pilots during World War II.
Sundin lives in northern California with her husband, three children, an antisocial cat, and a yellow lab bent on destroying her writing career. When she isn't driving kids to tennis and karate, she works on-call as a hospital pharmacist and teaches Sunday school and women's Bible studies.