Review of A Dream of Home
(Hearts of the Lancaster Grand Hotel #3)
by Amy Clipston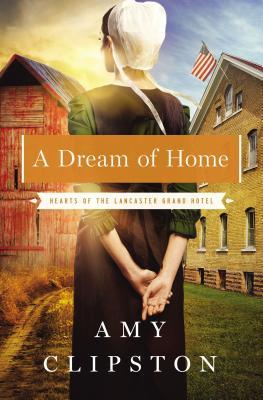 When she moves to Amish country to find peace and healing, Madeleine finds a special community and a special man who pull her out of her solitude into a new life.
Moving to Pennsylvania wasn'
t in Madeleine s original plans. She should still be in California and should have married her pilot fiance a year ago but death has a way of changing everything. Now the former Air Force flight nurse is living alone in Paradise, Pennsylvania, and working as a maid at the Lancaster Grand Hotel. She isn'
t exactly a widow . . . but she sure feels like one.
Saul Beiler isn'
t exactly a widower . . . but his wife is long gone. His six-year-old daughter, Emma, doesn t know that her mother fled the Amish community and married another man but she does know that her dat is lonely, and that a pretty young maedel just moved in next door. Madeline s numb heart begins to thaw as she spends more time with the innocent and ever optimistic Emma. The stronger her friendship grows with the young girl, the more intrigued Madeline grows about the humble, strong, man raising her on his own.
But even as a strange attraction pulls Saul and Madeleine across a stark cultural divide, they and everybody else have to wonder: What could they possibly have in common besides heartache? Will love allow Madeleine to finally find the home she s been dreaming of all along?
MY REVIEW: Madeleine is a girl after my own heart as she finds crochet is one of the things she can do to relieve stress when life gets crazy for her. She had a difficult time in losing her fiance and moves to her Amish grandparents home only to find that her neighbor, Saul, does not want to encourage a relationship between her and his family. He is in a difficult position as well as he and Madeleine feel an attraction and he is Amish and she is not. Madeleine also loves Saul's young daughter, Emma, and they enjoy cooking together. They use mammi's recipe books and explore her many wonderful Amish recipes, sometimes in Madeleine's kitchen and sometimes at Saul and Emma's. Madeleine forms many friendships among the Amish and the English in her new neighborhood and in her job at the hotel. She begins to feel that she has truly come home in the Amish neighborhood but her heart longs for more. Will she find it here or will she decide to sell and move back to her mother in California? You will want to read this 5 star novel to find out how the issues are resolved for Madeleine, Saul, and Emma.
I received a copy of this book from netgalley in exchange for my honest review.
About the Author:
From goodreads' author bio:
I'm Amy Clipston. I am an author of Amish and Christian fiction with Zondervan Publishing. Most of my books focus on the Amish community, faith, and love. I also write romance novels and young adult inspirational stories.
Please check out my bestselling Kauffman Amish Bakery book Series, including the following books:
A Gift of Grace, April 2009
A Promise of Hope, April 2010
A Plain & Simple Christmas, September 2010
A Place of Peace, December 2010
Naomi's Gift, September 2011
A Life of Joy, February 2012
A Season of Love, June 2012
Kauffman Amish Christmas, October 2012
A Hopeful Heart, Hearts of the Lancaster Grand Hotel Series #1, June 2013
A Mother's Secret, Hearts of the Lancaster Grand Hotel Series #2, June 2014
A Dream of Home, Hearts of the Lancaster Grand Hotel #3, December 2014
A Simple Prayer, Hearts of the Lancaster Grand Hotel Book #4, June 2015.
My young adult books include:
Roadside Assistance, April 2011
Destination Unknown, sequel to Roadside Assistance, February 2014
Miles to Nowhere, April 2015
A Reckless Heart, May 2012
A Gift of Love (A Memoir), March 2014
I enjoy spending time with my family, including my hubby, my two wonderful sons, my mom, and my four spoiled-rotten cats. I love reading.
I'm an advocate for organ and blood donation. I donated a kidney on June 14, 2011, at Johns Hopkins Hospital. Through my donation, my husband received a second kidney transplant. My husband and I matched another couple and we swapped kidneys with them. I gave a kidney to my husband's donor's wife. Feel free to email me and ask me what it was like to be a kidney donor. It was one of the most amazing experiences in my life. If you're healthy, please donate blood! Also, become an organ donor.
Visit me at
www.facebook.com/AmyClipstonBooks,Twi
...
at @AmyClipston or
www.AmyClipston.com
.