Review of "A December Bride"
Review of A December Bride
by Denise Hunter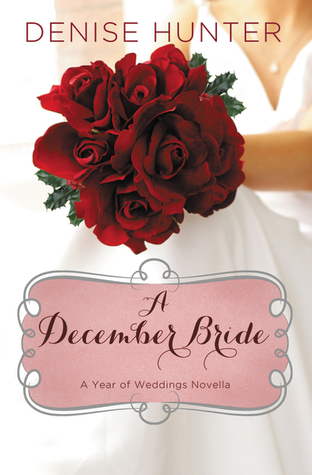 What started as a whim turned into an accidental - and very public - engagement. Can Layla and Seth keep up the facade in Chapel Springs this holiday season - for the sake of her career . . . and his heart?
Under normal circumstances, Seth Murphy, the best friend of Layla O'Reilly's ex-fiance would be the last person she'd marry. But the news of their upcoming (and phony) nuptials convinces a big client that Layla may be high-society enough to work for his agency, a coup that would put her fledgling home-staging business on the map. Seth has secretly loved Layla for years, even when she was dating his best friend. Maybe she'll never forgive him for the way he hurt her back then, but he has to try. And Layla is willing to keep up their engagement farce until she's landed her client. For Layla, it's the chance to save her career. But for Seth, it's his last chance to win her heart.
MY REVIEW: I love a wedding and a wedding with Christmas and snow and sleighs involved is even better. Layla is decorating Seth Murphy's historic home in hopes of getting a job from a huge influential client in the area. Seth tries to save Layla's hurt feelings and tells Jessica that they are engaged. And that they wedding is in just a few weeks right before Christmas! She would make him take it back except she really wants the job and the client is impressed that she is engaged to wealthy Seth Murphy. What's a girl to do?? She simply must plan a small intimate wedding, right, or at least pretend to do so.
This is a really quick and sweet read. I really enjoyed the book and couldn't help smiling the whole way through the book. I rate this book 5 stars and am eager to read the other novellas in the series. I am working my way through a year full of weddings and romance. I received a free pdf version of this book from netgalley in exchange for my honest review.
About the Author:
Denise Hunter is the award-winning author of 20 novels, including
The Accidental Bride
and
Convenient Groom
.
Denise lives in Indiana with her husband Kevin and their three sons. In 1996, Denise began her first book, a Christian romance novel, writing while her children napped. Two years later it was published, and she's been writing ever since. Her books often contain a strong romantic element, and her husband Kevin says he provides all her romantic material, but Denise insists a good imagination helps too!