Review of
Hallee Bridgeman's Jewels Bundle:
Sapphire Ice & Greater Than Rubies
Jewels Bundle 1 -- Sapphire Ice & Greater Than Rubies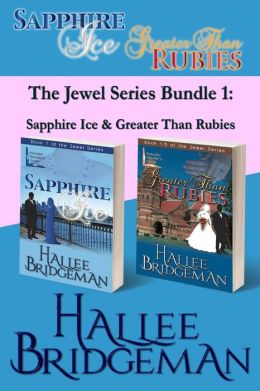 This is the
complete
story of Robin Bartlett, the eldest of the
three half-sisters readers around the world have come to know and love and Antonio "Ton
y" Viscolli, the man she is destined to marry.
Sapphire Ice
is a story of redemption and transf
ormation that ultimately leads to a love that will span all eternity. Robin's he
art is as ice cold as her sapphire blue eyes. After a terrifying childhood, she trusts neither God nor men. With kindness and faith, Tony Viscolli

prays

for the opportunity to shatter the wall of ice around her heart. What is a good wife worth?
IN GREATER THAN RUBIES,
Robin plans a dream-come-true wedding. Anxiety arises when she starts to realize the magnitude of change marriage will involve. Forgotten nightmares resurface reminding Robin of the horrors of her past. She gives in to her insecurities and cancels Boston's "Royal Wedding." With God's guidance, will her bridegroom convince her of her true worth? Sapphire Ice, the complete contemporary Christian romance novel and Book 1 of the critically acclaimed Jewel Trilogy, is bundled with the novella inspired by the Jewels -- Greater Than Rubies -- for the first time ever!
My Review:
I was blown away by my introduction to author, Hallee Bridgeman, with Sapphire Ice & Greater Than Rubies. Tony meets Robin, and a spark is ignited! The sparks definitely fly towards Tony from Robin. She is broken, bruised, wounded from past abuse and does not want ANY MAN in her life until Tony comes in and touches her in a gentle way to wipe a stray tear from her cheek. Mesmerizing would be a great adjective to describe my feelings as I read these two pieces. I love how Hallee used her words to show God's love for us. She used scripture and prayer appropriately through the two works to give readers hope and the news of salvation. I love how Robin's sister, Maxie, said that "Stands with Two Fists" would be a better name for her.....she, too, suffered cruel abuse at the hands of others and is in need of a tender love.
I received a kindle version of this book from bookfun.org (The Book Club Network) in exchange for my honest review.
About the Author:
Hallee Bridgeman lives with her husband and their three children in small town Kentucky. When she's not

writing

Christian romance novels (hallee.bridgemanfamily.com), she blogs about all things cooking and homemaking at Hallee the Homemaker (halleethehomemaker.com). Hallee started writing when her oldest child and only daughter was a baby, but a busy professional career and being the wife of a deployed soldier had her shelve her books for another time. Two more children, a cross country move, and God's perfect timing brought the books off of the shelf to be dusted off and presented to you now. Hallee loves coffee, campy action movies, and regular date nights with her husband. Above all else, she loves God with all of her heart, soul, mind, and strength; has been redeemed by the blood of Jesus Christ; and relies on the presence of the Holy Spirit. She prays her books are a blessing to you and would love to hear back from you. You can reach Hallee by using the contact information on her websites.