HEARTS IN HARMONY Book Review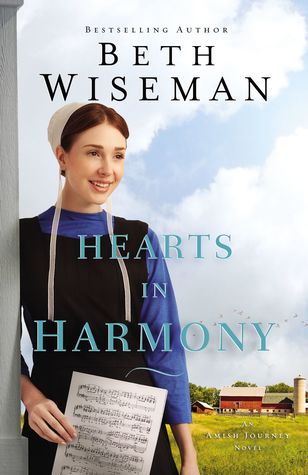 They both love music. Will God deny what brings them such joy?
Musical prodigy Levi Shetler hasn't touched a piano since he secretly played one years ago. His strict Amish community forbids instruments or the singing of any music not in their approved songbook. Levi asks God often why music tempts him when playing an instrument isn't allowed in his world.
One person knows Levi's talents: Mary Hershberger, the girl who promised years ago to keep his secret. Mary comes from a more liberal district than Levi, but she's facing family troubles of her own. The mutual care for an aging
Englischer,
Adeline, reunites Mary and Levi as young adults. They realize that, despite their differences, they have a shared love of music—and a shared confusion about whether their talents are God-given gifts or temptations luring them into the
Englisch
world.
The couple realizes they must compromise or part ways, but a tragic accident shakes their decision. Both Mary and Levi will need to reconcile what they love with what their hearts say is right—because even as their passion for music brings them together, it could be what tears them apart.
The first novel in the new Amish Journeys series by bestselling author Beth Wiseman, Hearts in Harmony explores how far the heart will travel for the melody of love.
MY BOOK REVIEW:
5 Stars ****** 5/5 stars
I love this first book in An Amish Journey series! It is full of new twists on the Amish lifestyle. There is romance, music (forbidden music, in fact), illness, care and respect for the elderly, and interest between Amish and Englisch people. I felt like Beth Wiseman introduced some topics in her book which are unique to Amish fiction and it was refreshing to read.
I highly recommend this book and am eagerly anticipating the second book in the series. Those who enjoy Christian and/or Amish fiction are sure to love this book.
I received a free digital copy of this book from netgalley and Zondervan in exchange for my honest review. I was not required to write a positive review and all opinions expressed are my own.
ABOUT THE AUTHOR:
Beth is the best-selling and award winning author of the Daughters of the Promise series - Plain Perfect, Plain Pursuit, Plain Promise, Plain Paradise, and Plain Proposal. She is contracted with HarperCollins Christian Publishing. Her other series--the Land of Canaan Novels--begins with Seek Me With All Your Heart, then The Wonder of Your Love and now, His Love Endures Forever. Seek Me With All Your Heart is the first Amish fiction book selected as a Women of Faith novel in 2011. Beth has also written three contemporary Christian fiction novels, Need You Now published in 2012 and The House That Love Built in 2013. In The Promise, (2014) Beth jumps way outside the box. This story takes readers far away from Amish Country and small Texas towns to a dangerous place on the other side of the world. Inspired by a true story, Beth believes this is the book she's been working toward for a long time. 2015 brings Beth back to the Pennsylvania Amish with her new series, Amish Secrets. She is currently working on book #2 following much success with book #1, Her Brother's Keeper.
Visit her website
Follow on Facebook
Follow on Twitter
Follow on Goodreads
Follow on Instagram