Review of Fatal Frost
Defenders of Justice #1
by Nancy Mehl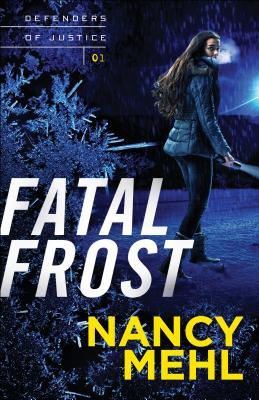 Mehl Ramps Up the Suspense in This Brand-New U.S. Marshals Series
Mercy Brennan followed in her father's footsteps in a law enforcement career, but she has no interest in any other connection to him. A U.S. Marshal in St. Louis, Missouri, she's assigned to a joint task force with the St. Louis PD that puts her back into contact with her father and in the sights of St. Louis's most powerful gang.
When the gang has reason to believe Mercy has possession of some highly sensitive and incriminating information, her boss assigns Mark St. Laurent--a Deputy U.S. Marshal and Mercy's ex-boyfriend--to get her out of town until they can guarantee her safety.
Initiallyrc unaware of the danger she's in and uncomfortable working with Mark, Mercy's frustration escalates when she discovers the extent her boss and Mark have been keeping her in the dark. It isn't until a freak ice storm hits, stranding them at a remote location and out of contact with the district office, that the full severity of their situation becomes clear. As the storm worsens, the forces of nature combine with a deadly enemy closing in to put their lives at imminent risk. Can they survive long enough for help to arrive--if help is even coming at all?
MY REVIEW: A terrible storm with snow, ice, and freezing temperatures are awful enough to deal with but Mercy and Mark have drug cartel members after them. Mercy has something they want and they'll do anything to retrieve it. Mercy and Mark have had a previous relationship together but it's over so that creates further complications to the entire ordeal. What will they do to remain alive and they have another agent with them and they have never met him before. Can they trust him?
I love suspense novels and this is one of Nancy Mehl's best works. I can't wait for the next book in the series! Hurry up and get to writing, Nancy. After more fans read this, they're going to be anxiously awaiting it too. Thank you for writing something I could really enjoy in my spare time. It's a winner!
I rate this book 5 stars!
This book was a gift and my review was my own decision and all thoughts expressed are my own.
About the Author:
Nancy Mehl lives in Wichita, Kansas with her husband, Norman, and her very active puggle, Watson. First published in 2001, she has now authored nine books, including an omnibus mystery collection, Cozy in Kansas, which contains three of her previously published Ivy Towers mysteries. Book three in the series, For Whom the Wedding Bell Tolls, won the American Christian Fiction Writers Mystery Book of the Year award. Nancys main writing interests lie in mystery although her new Harmony Series leans more toward the romantic suspense genre. Nancy runs a HUD program for the city of Wichita and is president of a volunteer organization, Wichita Homebound Outreach. She is a member of American Christian Fiction Writers and Kansas Authors Club. You can find out more about Nancy by visiting her Web site at:
www.nancymehl.com