Review of Someone Must Die
by Sharon Potts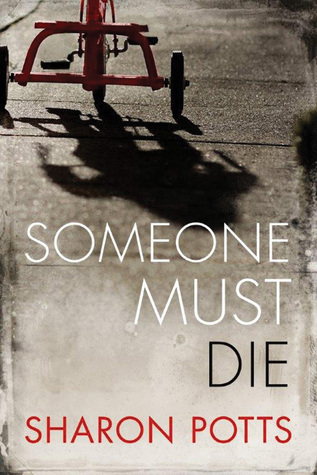 When her six-year-old nephew vanishes from a neighborhood carnival, Aubrey Lynd's safe, snow-globe world fractures; it shatters when the FBI's investigation raises questions about her own family that Aubrey can't answer.

Aubrey picks apart the inconsistencies to expose the first of many lies: a ransom note—concealed from the FBI—with a terrifying and impossible ultimatum. Aubrey doesn't know what to believe or whom to trust. The abduction is clearly personal—but why would someone play a high-stakes game with the life of a child? The more she presses for answers, the more Aubrey is convinced that her mother is hiding something.

Desperate to save her young nephew, Aubrey must face harsh truths and choose between loyalty to her family and doing the right thing. And she'd better hurry, because vengeance sets its own schedule, and time is running out.
MY REVIEW: A missing child, a grandmother who just reconciled her relationship with her son's family....the father and mother of the missing child, her own precious grandson who she finally is able to spend time with ....she takes him to a carnival and loses him. Ethan is gone! She looks everywhere....she asks people around her......she calls the police and her daughter, Aubrey. Ethan is gone! Ethan is gone! Ethan is gone! Is this a nightmare? Will they all wake up and find it was just a dream? Just a horrible, terrible dream? When they wake up the next day, Ethan is still gone. How will they all survive ? How? Where? When will they find him? Her son now blames her. Kevin, the son who recently called her and told her that they wanted all of Ethan's grandparents to be involved in his life....now he blames her. Why wouldn't he blame her? She lost him. She lost her precious grandson the first time he has ever been allowed to come to her home and stay with her. Ever. He has never been there with her before and she lost him. She lost him. She pleads with the FBI and the police to find him. Please please find Ethan.
I love psychological thrillers and this one is so incredible. I had to keep reading. I read in the bed until I couldn't hold my eyes open. I read in the car on the way to visit family. I read in the car on the way home as my husband drove. I read as we watched a television show. I read until the very end, but I wasn't paying attention to the show on the television. The book was that good, that engaging, that fascinating, that suspenseful. I just love it when I don't figure out who did it and why they did it. It makes the resolution that much more exciting and I could not figure this one out. There was murder. There were bombs. There were psychological games. There was cheating. There were lies. But I could not figure out who committed these crimes and I wanted to know desperately. You will want to know too. So you will have to read this book because someone must die and you will want to know who and why and where and when.
I rated this book 5 stars because I couldn't figure it out and I just had to know.
I received a copy of this book from netgalley in exchange for my honest review.
About the Author:
Sharon Potts is the award-winning, critically acclaimed author of five psychological thrillers, including In Their Blood—winner of the Benjamin Franklin Award and recipient of a starred review in Publishers Weekly. A former CPA, corporate executive, and entrepreneur, Sharon has served as treasurer of the national board of Mystery Writers of America, as well as president of that organization's Florida chapter. She has also co-chaired SleuthFest, a national writers' conference. Sharon lives in Miami Beach with her husband and a spirited Australian shepherd named Gidget.