Review of Whispers in the Reading Room
by Shelley Gray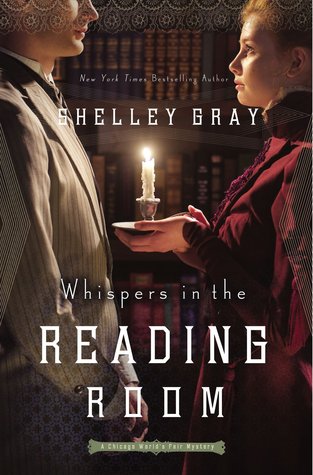 Lydia's job at the library is her world—until a mysterious patron catches her eye . . . and perhaps her heart.
Just months after the closure of the Chicago World's Fair, librarian Lydia Bancroft finds herself fascinated by a mysterious dark-haired and dark-eyed patron. He has never given her his name; he actually never speaks to a single person. All she knows about him is that he loves books as much as she does.
Only when he rescues her in the lobby of the Hartman Hotel does she discover that his name is Sebastian Marks. She also discovers that he lives at the top of the prestigious hotel and that most everyone in Chicago is intrigued by him.
Lydia and Sebastian form a fragile friendship, but when she discovers that Mr. Marks isn't merely a very wealthy gentleman, but also the proprietor of an infamous saloon and gambling club, she is shocked.
Lydia insists on visiting the club one fateful night and suddenly is a suspect to a murder. She must determine who she can trust, who is innocent, and if Sebastian Marks—the man so many people fear—is actually everything her heart believes him to be.
MY REVIEW: This book has a dark, brooding nature to it and is beyond intriguing! Lydia hardly seems the sort of woman who would capture the attention and heart of club owner, Sebastian Marks, but that is precisely what happens. She has led a dull and boring, though peaceful life until she meets Mr. Marks in the "reading room"....the library where she works as head librarian. She loves to discuss books and he loves books. They seem a match made in heaven in the reading room, but outside these walls, just being seen with him marks her as a different sort of "lady".
This book kept me hungering for more time to sit and read, it kept me on the very edge of my seat, and I highly recommend it to readers. I am a huge fan of Shelley Shepard Gray's works and this one is very different and yet equally addicting. Check out this unique book by Shelley and see what you think.
I rated this book 5 stars because it is just that good!
I received a free copy of this book from netgalley in exchange for my honest review.
About the Author:
from goodreads' bio:
I live in southern Ohio with my husband, two teenagers, and two dogs. My days are filled with busy activities like most any other mom and housewife. But I also love to write books.
Each morning, after my kids go off to school, I sit at my desk, look out my window, and dream of other places. The hours fly by as I make up people and places and drink way too much coffee.
Writing for Avon Inspire has truly been a dream come true. Being able to spend my days in my make-believe world of the Brenneman Bed and Breakfast is a true blessing. I have enjoyed getting to know more about the Amish culture and tapping into my faith as I show each character's progression toward a personal relationship with our Lord.
Before becoming a full time writer, I taught elementary school in Texas, Arizona, and Colorado. A job transfer to Ohio led my husband to encourage me to finally give writing a try. After all, I had notebooks full of made up stories.
I'll never forget that first book I typed in our unfinished basement. It was exciting to make up a story, but also very scary. I was also so embarrassed, sure someone would come out of the woodwork and point out that I wasn't a 'real' writer. But I persevered, and sold my third manuscript.
Things have changed a bit. Now I have a real office of my own. (think old guest bedroom!) My walls are painted pink, and more than a couple of book covers decorate my walls. But my days are still the same. I wake up, dream about other people, and do my best to type out stories.
Shelley Gray also writes Amish and Christian fiction under the name: Shelley Shepard Gray