Review of As Waters Gone By
by Cynthia Ruchti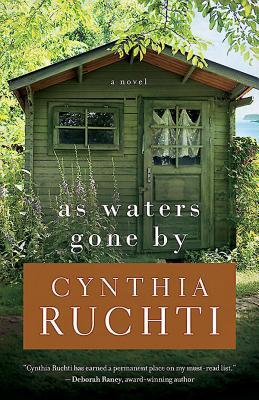 Emmalyn and Max Ross may have to endure the fight of their lives to mend the tattered fabric of their marriage. His actions ensured she could never be a mother and put him in prison, giving their relationship a court-mandated five-year time-out. On a self-imposed exile to beautiful but remote Madeline Island, one of the Apostle Islands of Lake Superior, Emmalyn has just a few months left to figure out if and how they can ever be a couple again. Nudged along by the exuberant owner of the Wild Iris Inn and Cafe, a circle of misfit people in their small town, and a young girl who desperately needs someone to love her, Emmalyn restores an island cottage that could become a home and begins to restore her heart by learning what it means to love unconditionally. Yet even as hope begins to find a place within the cottage walls, Emmalyn still wonders if she's ready for Max's release. She may be able to rebuild a cottage, but can she rebuild a marriage?
MY REVIEW: Cynthia Ruchti has written a beautiful story of forgiveness and second chances. Marriage is difficult enough under perfect circumstances, but for one's spouse to be in prison for five years while trying to repair the remants of a relationship is even more trying. This story is a gripping tale. It had me crying along with the characters. Emmalyn wants a child desperately but now her chances seem to be dying. God blessed me with the privilege of giving birth to and mothering three beautiful daughters so I can definitely imagine Emmalyn's heartache at never having the chance to be a mother. Children are a blessing from God, and Emmalyn feels she is being robbed of that blessing due to Max being imprisoned while her biological clock sounds its ugly alarm.
Readers will find this book of second chances and forgiveness completely captivating. I certainly did not want to rest until I had read "the end". Read this heart wrenching story which also highlights love and redemption. Some Christian authors seem to add scriptures and prayers just to make the book seem Christian in nature. Cynthia Ruchti writes it into every fiber of her characters' being.
I rate this book 5 stars and would highly recommend it to fans of Christian fiction.
I received a free ecopy of this book from netgalley in exchange for my honest review.
About the Author:
Taking multi-tasking to new heights (or depths, depending on your perspective), Cynthia Ruchti is the award-winning author of recent releases "All My Belongings" (novel), "When the Morning Glory Blooms" (novel), and "Ragged Hope: Surviving the Fallout of Other People's Choices" (nonfiction). She makes potato corn chowder for her husband of 42 years, loves on her three kids and five grandchildren, recently retired from 33 years of writing and producing a daily radio broadcast called THE HEARTBEAT OF THE HOME, is past president of the 2,700-member American Christian Fiction Writers and now serves as ACFW's Professional Relations Liaison, all while working on more book projects in addition to the eight already on the shelves. The year 2010 saw the release of her debut novel--"They Almost Always Come Home" by Abingdon Press (a Carol Award finalist)--and a Christmas collection novella, "The Heart's Harbor" in A Door County Christmas, a Family Fiction Reader's Choice, by Barbour Publishing. "His Grace is Sufficient...Decaf is Not," released Nov 1, 2011. Another novella collection--"Cedar Creek Seasons" (Barbour) released in spring of 2012. "When the Morning Glory Blooms" (April 2013) was followed by "All My Belongings" (2014, also from Abingdon Press). Her books have recently been honored with two Selah Awards, two Christian Retailing's BEST Awards, and awards from CAN Golden Scrolls and AWSA Golden Scrolls. She tells stories of Hope-that-glows-in-the-dark through writing and speaking, but she gave up knitting, counted cross-stitch, sewing her own clothes, naps, and dusting baseboards a long time ago. You can find her at
www.cynthiaruchti.com
, at
www.facebook.com/cynthiaruchtireaderpage
, or in the kitchen, brewing herself another cup of tea.